LG Chem is drawing attention as it speeds up the process of diversifying its battery materials business. After investing in cathode materials, it has recently invested in a copper film manufacturer.
LG Chem announced on Sunday that it would invest $36 million (40 billion KRW) in a Chinese copper film manufacturer called Jiujiang DeFu Technology.
DeFu Technology was the third biggest copper film manufacturer in China last year based on production capacity. It makes copper foil for rechargeable batteries used for electric vehicles and for printed circuit board (PCB).
Copper foil is utilized as a current collector that forms a cathode within a rechargeable battery. As copper foil becomes thinner, more active materials can be filled in a cathode and thus raising the battery's capacity. It is expected that demands for copper film will increase very rapidly due to the electric vehicle battery market's explosive growth.
The company is operating production plants in Jiujiang and Lanzhou and it is currently able to manufacture 49,000 tons of copper film annually.
It plans to increase its production capacity to 78,000 tons by next year. It made $100 million (113 billion KRW) in sales this first quarter that is about four times more than what it made in the first quarter last year.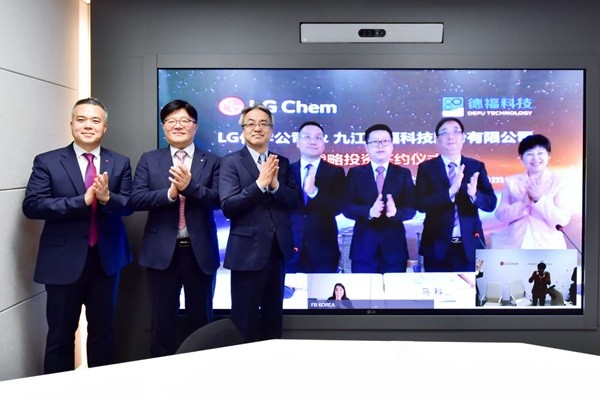 Its technical skills are comparable to that of global copper film manufacturers based on competitive production cost and production capacity. What is also special about the company is that it is the only Chinese company to possess copper film additive technology. LG Chem explained that DeFu's ability to manufacture high-quality copper film is its biggest strength.
DeFu Technology has been supplying its copper film to major battery manufacturers since last year. It plans to go public through ChiNext sometime during first half next year.
LG Chem has been focusing on promoting its battery materials business as a new growth engine and it decided to invest in DeFu.
With this investment, LG Chem is now able to strengthen its portfolio of battery materials based on a global business network and it has secured capability in a new battery material business.
LG Chem exchanged a memorandum of understanding with DeFu regarding long-term partnership and it plans to discuss with DeFu about various ways to cooperate in copper film business.
Nam Cheol, who is an executive director at LG Chem's Advanced Materials business, said that the company plans to strengthen its value chain through omnidirectional cooperation with global companies in the field of battery materials and that it would look to become a leader in the market for battery materials by raising competitive edge of existing businesses and capabilities in new businesses.
Staff Reporter Kim, Jiwoong | jw0316@etnews.com