A prediction has been made which believes that the global semiconductor market will be worth about $545 billion this year mainly due to rapid economic recovery and lack of semiconductors after the COVID-19 crisis starts to settle down. Particularly, the prediction believes that the memory semiconductor market that is led by Samsung Electronics and SK Hynix will make an explosive growth.
Bob Johnson, who is an analyst from Gartner and was one of speakers at 'SMC Korea 2021' hosted by the SEMI (Semiconductor Equipment and Materials International), said that there would be about $545 billion in sales coming from the global semiconductor market this year.
The market's forecast after this year is even brighter. Bob Johnson predicted that that there would be $602 billion and $649 billion in sales in 2022 and 2025 respectively and that the market would show an average annual growth of 6.8% starting from 2020 to 2025.
He predicted that the memory semiconductor market, which is led by Samsung Electronics and SK Hynix, in particular will show a very rapid growth.
"Due to a boom in memories, the ASP (average selling price) will reach its highest point next year, and memory semiconductors along will form a $200 billion market." said Bob Johnson.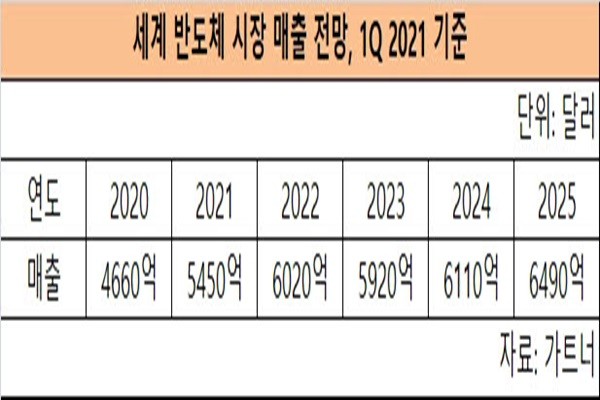 Sales from the global market for DRAMs, which are used to quickly process and send various information, are expected to be about $84.4 billion this year which will be an 28% increase compared to last year. Sales from the global market for NAND flash memories, which remember information even with IT devices are shut off, are expected to be about $65 billion this year. The market is expected to see its sales increase by at least 20% every year between 2020 and 2022.
Data center companies are expected to be the main buyers of memories. As many companies have begun to invest in their servers and replace memory semiconductors due to the growth of the cloud market, half of the semiconductor market for data centers ($70 billion) is expected to be in demand for memories.
Meanwhile, Samsung Electronics and SK Hynix have been very busy with investments in facilities and development of next-generation products in order to meet increased demands.
It is reported that Samsung Electronics, which currently stands at the top of the both DRAM and NAND flash markets, will invest in memory facilities that can manufacture 100,000 12-inch wafers every month in the first half alone. Also, it is preparing to mass-produce 14nm DRAMs and 176-layer NAND flash memories starting from this second half.
SK Hynix is currently preparing to mass-produce 4th gen 10nm-class DRAM (1a) through its new fab M16 in Icheon. The company announced that it would invest in necessary facilities earlier than its initial plan as it worries about lack of necessary semiconductor equipment due to companies around the world are trying to be self-reliant on semiconductors and are facing lack of semiconductors.
Staff Reporter Kang, Hyeryung | kang@etnews.com