Samsung Electronics has developed the industry's first DRAM technology based on a next-generation computing interface. The technology solves the issue of memory expansion and is expected to be greatly useful when there has been heavy increase in data usage.
Samsung Electronics announced on Tuesday that it has developed a DRAM technology based on a next-generation interface called 'CXL (compute express link)'. Various interfaces currently exist for computing systems. In case of DRAMs, an interface called 'DDR (double data rate) is the one that is widely used.
However, DRAMs based on the interface have a fatal flaw. Based on a server's structure, up to 16 modules can only be used for single CPU. Although amount of data that a server needs to handle continues to increase exponentially due to arrival of an AI (artificial intelligence) and high-performance computing era, there is limit to how much capacity of DRAMs can be increased.
An interface called CXL can be a solution to the issue of memory expansion. The CXL interface was developed in order for accelerators, memories, and storages to be utilized effectively. CPU, memory, GPU, server, and SW industries even set up a consortium in 2019 in order to develop and establish the CXL interface.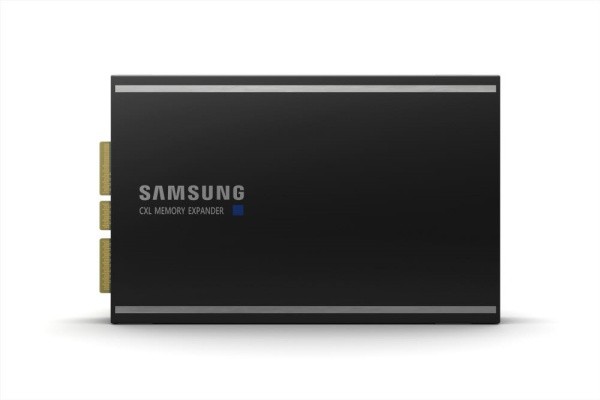 Based on discussions carried out within the consortium, Samsung Electronics has developed a CXL-based memory. The biggest strength of CXL-based memories is their ability to expand their capacity. Just by improving an interface and not having to change or replace a server, a DRAM's capacity within a system can be drastically increased. CXL-based memories look similar to that of an external storage device SSD (solid state drive) as the form factor used to manufacture SSDs is also used for CXL DRAMs.
A CXL controller chip that allows DDR DRAMs to be compatible with the CXL interface is also equipped inside of CXL DRAMs. Just like how a SSD is inserted into a server, one can simply insert a CXL DRAM into a server and can expand the system's memory to a terabyte level as the CXL DRAM coexist with other DRAMS in the system. In addition, connection speed is also improved as there is cache coherence. A representative from Samsung Electronics said that CXL controller chip supports various technologies so that DDR DRAMs can be used together with CXL DRAMs.
The company announced that it completed verifying CXL DRAMs on Intel's platform. It plans to expand its cooperation with major data center and cloud computing service companies by commercializing a technology that can easily materialize DRAMs with large capacity at the right time. Park Cheol-min, who is a director at Samsung Electronics' Memory Business, said that the company's CXL DRAM technology will play a role of an important memory solution for future high-tech fields such as next-generation computing, data center with large capacity, and AI. Park also said that the company plans to strengthen its cooperation with global companies so that a CXL ecosystem can expand at a rapid rate.
Staff Reporter Kang, Hyeryung | kang@etnews.com