Intel has launched its 3rd Gen Intel Xeon Scalable data center processor which is optimal for realizing AI technology by delivering up to 40 cores. With excellent security and compatibility, the company plans to maintain its dominant position in the data center CPU market.
The company's new processor delivers up to 40 cores and is able to operate smoothly even when it processes large amount of data. It is also able to respond to various types of frequencies and support up to 6 terabytes of memory per socket.
The processor displays excellent performance particularly for cloud-based database, HPC (high-performance computing), and AI.
Na Seung-ju, who is executive director of Intel Korea, said that the 3rd Gen processor provides 1.46 times higher performance and 1.74 times higher AI inference performance than the 2nd Gen processor on average.
Intel, which currently holds about 90% of the server CPU market's share, stated that its new processor has better AI performance than equivalent products from AMD and NVIDIA.
Intel explained that the new processor displayed 1.5 times faster performance than AMD's 3rd Gen EPYC data center processor after testing performance of the new processor with 20 machine learning workloads. Its processor also recorded up to 1.3 times higher performance than NVIDIA's A100 GPU during the same experiment.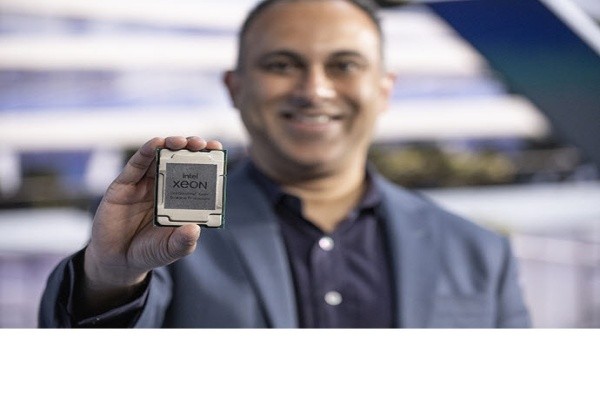 The 3rd Gen processor also provides advanced security capabilities. It minimizes data leakage that can occur during operation through Intel's security solution called 'SGX (Software Guard Extension)'. It also provides advanced data protection capabilities through new security solutions called Total Memory Encryption and Platform Firmware Resilience.
Intel has also expanded a relevant software ecosystem so that software develops can easily utilize its latest data center processor.
The company stated that its oneAPI Toolkits allow developers to easily use advanced compilers and libraries.
Number of cases where high-performance computing facilities are established using Intel's latest processor is also rising in South Korea.
Intel Korea explained that the company is currently going through installation of 3rd Gen Xeon processors for the Korea Meteorological Administration's 5th supercomputer and that the computer's performance has displayed 8 times better performance than a system that the computer is currently based on.
"The 3rd Gen Xeon Scalable processor can be utilized for workloads in various fields such as AI, cloud, and edge device and it provides more stable performance than products from other companies through a variety of differentiated security technologies." said Executive Director Na. Director Na also explained that the processor is highly reliable as it was developed through long-term cooperation with various partners within the ecosystem."
Staff Reporter Kang, Hyeryung | kang@etnews.com