SK IE Technology (SKIET), a subsidiary of SK Innovation, is set to take a commanding lead in the global market for 'wet-type separator film" that is used for electric vehicle (EV) batteries. The gap between SKIET and Asahi Kasei, which is ranked second behind SKIET, in production is set to more than double in 2023.
According to the industry on Sunday, SKIET plans to increase its production capacity of wet-type separator film to 2.73 billion m2 by 2023 and widen the gap between itself and Asahi Kasei in production capacity. In 2020, SKIET and Asahi Kasei ranked first and second respectively in the global wet-type separator film market.
Separator film, which is one of the four key materials of an EV battery, can be made through wet process and dry process. Wet-type separator film is mostly used for EV batteries. Although it requires larger initial investment compared to dry-type separator film, it is much easier to create super-thin films using wet-type separator films. As a result, there has been a rapid increase in demands for wet-type separator films in Europe.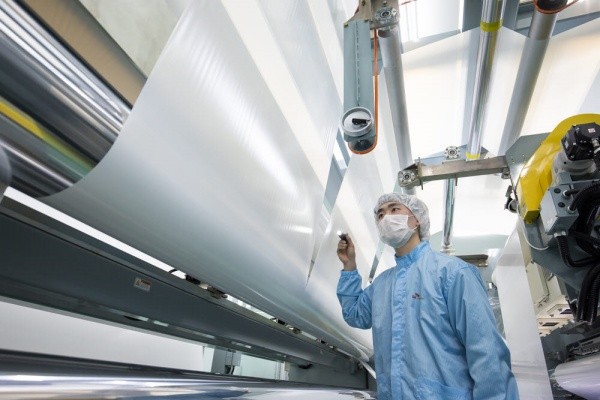 Due to steady demands for separator films from Europe, SKIET took over the first place in the market last year with a market share of 26.8%.
In order to continue to raise its market share, the company plans to continue to increase production capacities of its plant in Poland (1.54 billion m2), China (680 million m2), and Jeungpyeong (540 million m2) by 2023. Asahi Kasei also plans to increase its production capacity of wet-type separator films up to 1.35 billion m2 by 2023 as well. Although the capacity is 35,000 m2 more than what it is now, it will be well short of what SKIET's production capacity is going to be in 2023.
SKIET also plans to widen the technology gap. Through sequential orientation technology, SKIET is able to adjust thickness and properties of its separator films according to requests from customers. The technology allows separator films to be stretched out horizontally or vertically. With this technology, the company is able to materialize super-thin separator films with 4 micrometers in thickness.
A representative of SKIET said that the company plans to occupy 43% of the market's share by 2025 based on expansion of production bases in overseas and technology gap and continue to solidify its current standing.
Staff Reporter Kim, Jiwoong | jw0316@etnews.com