Boillabs has become the first South Korean company to develop a mechanical multiaxial artificial knee joint technology, which is a key technology for prosthetic legs, and mass-produce such joints. The company is expecting to replace foreign products with its product due to its higher performance and better competitive price and it also plans to export its product to developing countries and troubled parts of the world.
"We completed the development of the multiaxial artificial knee joint at the end of last year and we expect to start selling it in March after going through our own clinical tests and certification processes." said CEO Kim Bo-il of Boillabs. "Our product has improved technology so that it assists patients who have their lower extremities amputated not to fall and walk naturally and it also has great price competitiveness as it only costs one-third of foreign products."
Multiaxial artificial knee joint is a key part that connects lower extremities with prosthetic legs and assists patients to walk naturally and is currently imported from foreign countries. South Korea's market for multiaxial artificial knee joints is estimated to be worth somewhere between $27.3 million (30 billion KRW) and $36.3 million (40 billion KRW).
Because ordinary artificial knee joints are optimized for walking on flat grounds, they start losing their abilities to break once one's steps become narrower when he or she is walking on a slope or going up stairs. They also start losing their balance causing those who are wearing them to possibly fall.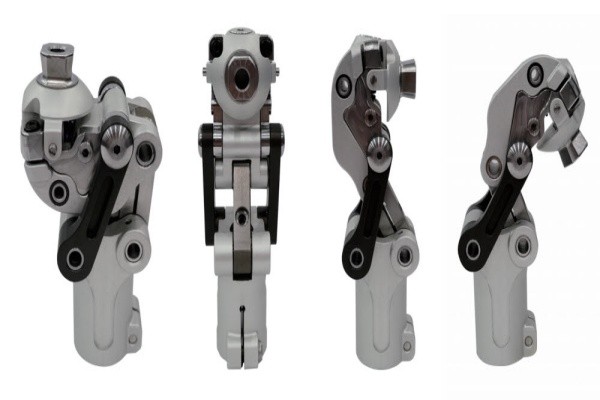 Boillabs' multiaxial artificial knee joint is applied with a technology that allows the product to have appropriate breaking power in every stage of walking from stance phase to swing phase. The company applied the product with a mechanical operation technology that assists wearers to walk safely and naturally and it has patented the corresponding technology.
"Because disabled people do not prefer to expose their disabilities, it is necessary to have artificial knee joints' movements resemble that of actual knee joints as much as possible so that disabled people are able to walk naturally." said CEO Kim. "We approached the development after seeing disabled people getting hurt from falling and discouraged psychologically."
CEO Kim is an expert in the field of prosthesis with 40 years of experience. While managing his personal business, he decided to establish a corporation in September last year after completing the development of the mechanical multiaxial artificial knee joint and deciding to commercialize the product. It plans to supply the product mainly to the Middle East and Africa including developing countries where prosthetic legs are not much available.
While number of patients who have body parts amputated due to diabetes, cancer, and accidents is increasing every year, investments in training of engineers for products that are used for disabled people, fundamental technologies, and commercialization are not taking place properly.
CEO Kim said that the company's goals are to develop devices and prosthetic legs that are able to shift their balance and complete a total solution in order to help disabled people walk more naturally with prosthetic legs and to develop an electronic robotic prosthetic knee that is applied with AI technology by the end of this year.
Staff Reporter Jung, Hyeonjung | iam@etnews.com