As ICT-based services such as online classes and video conferences have started to receive the spotlight since the spread of COVID-19, relevant technologies such as cloud computing and immersive technologies have also started to receive attentions.
The South Korean government saw the importance of its publicly-distributed face mask application in March and cloud computing services during the start of online classes for elementary, middle, and high schools in April. Due to cloud infrastructures, it was able to develop an application that is able to check the current status of masks at once in just few days while schools have been able to provide online classes without much setback.
The bar for public cloud computing services that had not been opened for the past ten years has been finally lifted. The South Korean government announced last year that it would introduce cloud computing to the entire public sector. Public agencies need to consider cloud computing first whenever they introduce or develop new systems. Every old system will be replaced with cloud computing. It is expected that cloud computing, which is a key infrastructure for digital transformation, will begin to be adopted throughout the public sector as well.
Companies are also feeling the importance of new technologies such as cloud computing and artificial intelligence (AI) since the spread of COVID-19. It has become difficult to guarantee continuity of tasks without an ICT infrastructure such as teleworking and video conference. Medium-sized enterprises and small and medium-sized enterprises have also been quick about introducing ICT products and new technologies and shifting towards digital transformation. According to a survey done by Workday and IDC on companies including South Korean companies in 2020, 72% of the companies replied that digital transformation has been the priority within their companies since the spread of COVID-19. According to Gartner, it is estimated that South Korea's cloud computing market will be worth more than $2.72 billion (3 trillion KRW) this year.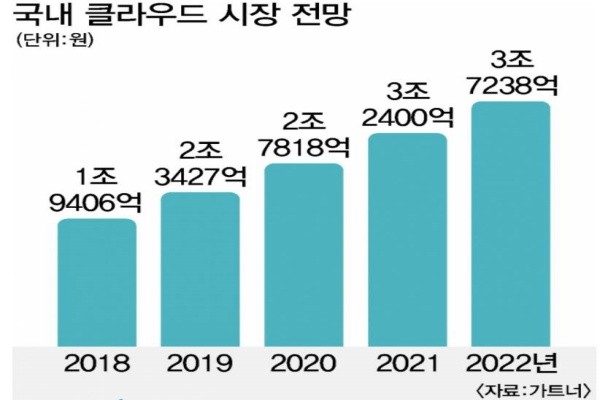 As the South Korean government and South Korean companies have shown more interests in digital transformation, the software industry including cloud computing, AI, and data has seen an uptick in its overall sales. South Korean companies such as Namutech, Innogrid, and Crossent as well as foreign companies such as AWS, Microsoft, VMware, and Citrix are all making positive performance.
"As level of interests in digital transformation has heightened since the spread of COVID-19, there are more companies that are using more of cloud computing services or adopting cloud computing services for the first time." said CEO Jung Cheol of Namutech. "Because companies that were not able to invest in cloud computing services last year are preparing to invest in them this year, adoption of digital transformation-related technologies will continue to rise this year as well."
Immersive technologies such as VR and AR are also receiving attentions from the government and companies.
These technologies can also be utilized in different fields such as health, distribution, manufacturing, and environment in addition to contents. Particularly, immersive contents are receiving attentions as they are able to play key roles in spreading 5G as the mobile network becomes more regularized.
The South Korean government and South Korean industries saw the power of K-contents such as movies and music once again. President Moon Jae-in made a statement last year that he and his administration would look to develop South Korea as a powerhouse in digital contents and invest $300 million (330 billion KRW) in promoting immersive contents and training 1,400 engineers by 2025.
Staff Reporter Kim, Jiseon | river@etnews.com