WOW3D (CEO Seo Jeong-ju) announced on Monday that it has released a stand-type high-performance automatic temperature measuring device/dispenser (product name: K9 Pro) that is able to measure temperature and sanitize hands at the same time.
When a visitor puts his or her hand below the device's infrared sensor that is located at the bottom of the device, the device is able to automatically measure his or her temperature within two seconds and dispense hand sanitizer. It is able to quickly and easily perform temperature measurement and sanitizing of hands at the same time.
It says "normal" when one's temperature is normal and it sounds an alarm when one's temperature is considered high.
It is able to support up to 12 different languages including Korean. It is applied with various functions such as volume control of audio guidance and amount of hand sanitizing solution dispensed. The device's infrared sensor with superhigh accuracy measures the temperature of one's hand or wrist and it has a margin of error of 0.2°C.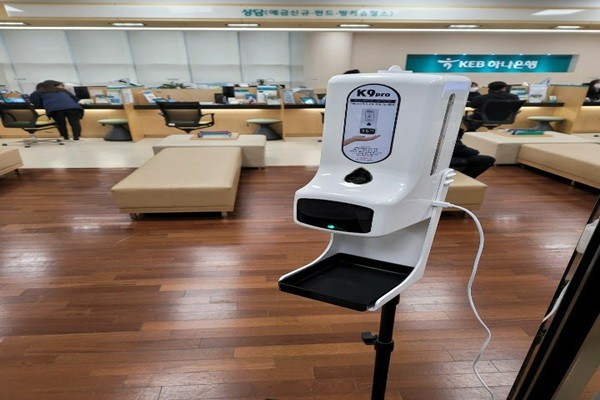 The device comes with 1,000-millimeter hand sanitizing solution and is able to dispense the hand sanitizing solution around 700 times. Because its sides are transparent, it is easy to check how much hand sanitizing solution is left in the device.
It is available as standing model, mountable model, or kids-type model. In particular, the standing model is small in volume which makes the model easy to be installed in narrow places.
WOW3D received a KC certification, which is a registration for broadcasting and communication equipment, from the National Radio Research Agency and it also applied for patents as well. It has recently decided to supply 300 units of K9 Pro to Hana Bank's branches in South Korea and it also plans to supply K9 Pro for multiuse facilities such as restaurants, stores, schools, hospitals, and public offices.
"Our K9 Pro simplifies COVID-19 preventive system as it is able to check temperature and dispense hand sanitizing solution at the same time." said CEO Seo. "It is a system that is able to quickly separate spreaders from many visitors when there is a mass infection."
Staff Reporter Jung, Jaehoon | jhoon@etnews.com