The Seoul Metropolitan Government announced on Monday that it plans to unify 12,808 public Wi-Fi SSIDs (Service Set Identifier), which are individually managed by Seoul and 25 autonomous districts and their affiliated agencies, as "SEOUL" for unsecured access (open) and "SEOUL_Secure" for secured access starting from January 1.
This plan will solve issues such as large number of different Wi-Fi SSIDs, inconvenience of clicking the access button every use, and disconnection in Wi-Fi service due to different public Wi-Fi SSIDs.
The unification will be applied to the public Wi-Fi network ran by Seoul and the 25 autonomous districts and their affiliated agencies. The Seoul Metropolitan Government also plans to push for unification on a public Wi-Fi network that was set up along with the Ministry of Science and ICT and the three major telecommunications companies in South Korea.
Since 2011, the Seoul Metropolitan Government has made Wi-Fi networks from the telecommunications companies available for free or had many agencies individually set up public Wi-Fi networks in order to lessen financial burden for people for using data and to guarantee information access right. So far, there are about 50 public Wi-Fi SSIDs within Seoul. Because each public Wi-Fi service has different SSID, one has to face inconvenience of accessing to a new public Wi-Fi network every time depending on his or her current location.
Once SSIDs are unified, one can simply connect to "SEOUL_Secure" once and enjoy public Wi-Fi without any interruption or disconnection wherever GGachion access points are installed.
GGachion access can be done by selecting a SSID "SEOUL_Secure" from Wi-Fi setting and entering "seoul" for both the ID and the password. Once this is set up, one can be automatically connected to public Wi-Fi wherever GGachion access points are installed.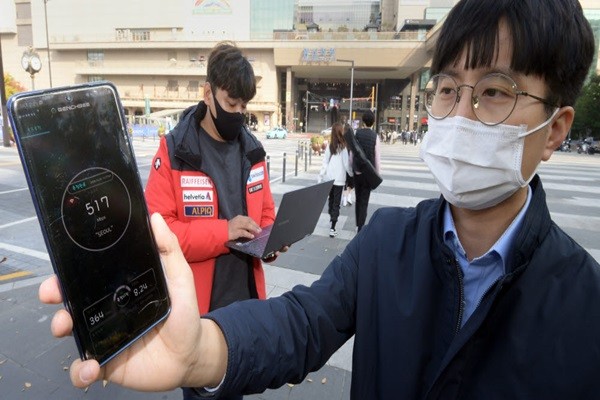 Unsecured access can be done by selecting "SEOUL" from Wi-Fi setting and clicking the unsecured access button on a webpage that opens up automatically. Unsecured access requires the button to be clicked every time it is used.
"SEOUL_Secure" is very safe as data that is sent through the secured access will be encrypted and the access will be applied with the latest Wi-Fi 6 WPA3 security technology.
An official from the Seoul Metropolitan Government requested people to minimize financial transaction or input of sensitive personal information when using public Wi-Fi even through secured access will be applied with an enhanced security technology.
The Seoul Metropolitan Government expects that the unification will solve any inconvenience and confusion resulting from different SSIDs and that it will be able to manage its public Wi-Fi even more effectively.
It plans to install GGachion access points throughout the city where communal life is expected by 2022.
"As 50 or so SSIDs have been jumbled up and managed by different agencies, level of convenience and satisfaction by people in South Korea using the city's public Wi-Fi has been low compared to the number of public Wi-Fi access points." said Lee Won-mok who is the director general for the city's Smart City Policy. "By unifying public Wi-Fi SSIDs in the city, we plan to improve level of convenience in using public Wi-Fi and strengthen security and raise level of satisfaction and rate of using public Wi-Fi."
Staff Reporter Kim, Siso | siso@etnews.com