Although it may seem that an era of future cars will arrive very soon, the world "future car" still feels unfamiliar in everyday life. Future cars are explained in various words such as autonomous car, connected car, digital cockpit, and new mobility experience. However, it is difficult to predict if and when such future car may be inside of one's garage.
However, people already have access to technologies that are developed to push forward an era of future cars. These technologies are part of the advanced driver-assistance systems (ADAS) that are already made available for many recent cars. Because future cars do not just drop from the sky all of sudden, such technologies are developed one by one in order to gradually bring an era of future cars. It is necessary to understand a history of how ADAS are being changed in order to understand the system of future cars.
ADAS are advanced technologies that will be part of future autonomous cars. SCC (Smart Cruise Control), LKA (Lane Keeping Assist), FCA (Forward Collision-Avoidance Assist), and BCW (Blind-Spot Collision Warning) are prime examples of ADAS. These technologies warn drivers about potential dangers once a risk of an accident or a collision is detected. These technologies are already available in many recent cars and are part of "level 2" autonomous driving.
ADAS have been becoming more advanced much faster recently. While they are becoming more accurate and effective, they are also applied with various elements of design. Various ADAS technologies such as reverse parking technology that utilizes USRR (Ultra-Short-Range Radar), CMS (Camera Monitoring System) that will be used for cars without side mirrors, and ADB (Adaptive Driving Beam) connected to ADAS are being developed for every aspect of a car.
USRR was developed for the first time by Hyundai Mobis and is used to assist parking. It senses any person or object that may be in the path while a person is performing reverse parking and either sounds an alarm or it can be used for rear emergency braking that forcibly stops a car if the driver does not step on the brake.
While the current rear emergency braking technology utilizes ultrasonic sensor, ultrasonic sensor is susceptible to outside factors such as wind or noise. Although a camera or a short-range radar can also be used, camera is not good for dark settings while short-range radar is not able to detect things that are extremely close. Hyundai Mobis' USSR solves all of the disadvantages of sensors that assist parking and has improved accuracy at the same time.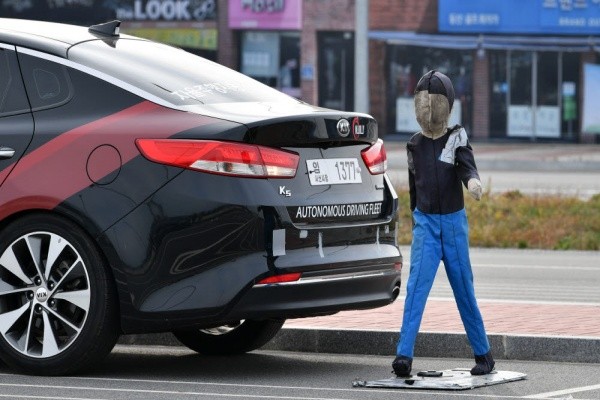 CMS is a next-generation ADAS technology that will be used for cars without side mirrors. Camera sensors will be attached where side mirrors are currently attached to cars and inform drivers about how cars on the side and in the back are operating. Drivers are able to look at images taken by camera sensors on a monitor. CMS provides wider view than side mirrors and it can open innovative ideas from an aspect of car design.
Although most of ADAS technologies are developed as they are, some technologies can be connected to key auto parts and assist the parts to provide far more improved abilities. In 2018, Hyundai Mobis developed an intelligent headlamp that is connected to ADAS and is able to accurately control brightness of light depending on the surrounding while the high beam is on at all times.
This technology is able to control the light of headlamps appropriately depending on movements of surrounding cars. It is a new kind of lamp technology that connects radar, navigation, and steering angle sensor to headlamps.
ADAS technologies and convergent solutions that combine ADAS technologies with auto parts are expected to become more important for future autonomous cars as such cars need to maximize safety of passengers and convenient driving by overcoming limitations of current technologies. It is necessary for auto parts makers and automotive manufacturers to continue to upgrade ADAS technologies and develop technologies that can combine and control ADAS technologies at the same time in order for them to gain an upper in competitions for future cars.
Staff Reporter Park, Taejoon | gaius@etnews.com