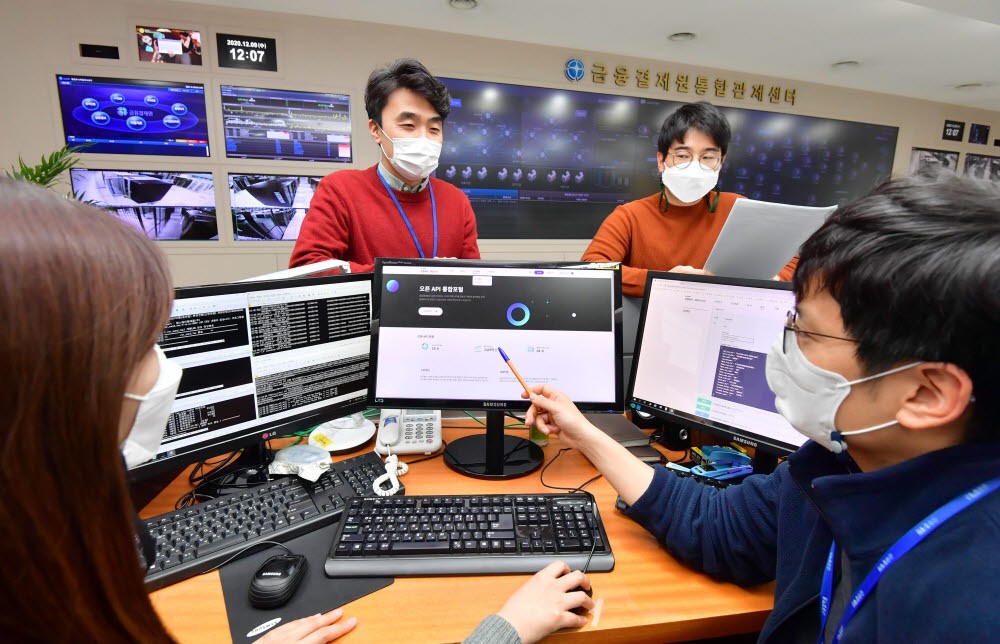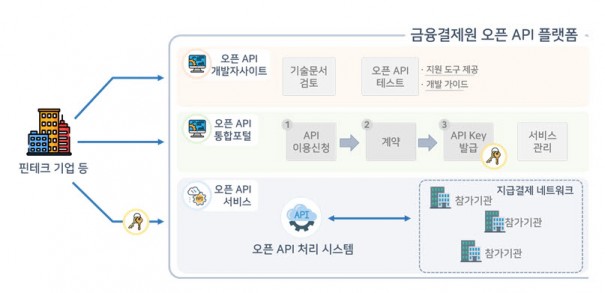 An open API (Application Programming Interface) integrated portal will be built for fintech startups so that they can easily develop and commercialize innovative financial services. Because the portal is able to provide necessary materials for service development and allows pilot tests to be conducted, startups will be able to reduce time and cost for developing financial services. By combining ICTs (Information Communication Technology) with financial services that have high entry barrier, small and medium-sized startups will be able to expand their businesses globally in a medium to long term. South Korea's open API integrated portal is the very first of its kind in the world.
According to financial and IT industries on Wednesday, financial authorities and Korea Financial Telecommunications and Clearing Institute (KFTC) have established an open API integrated portal and begun operating the portal. The portal is a website that manages application for API, contract management, issue of API key, and current status of use comprehensively.
Open API is a program that makes data platforms public so that outside developers and users can develop innovative service applications. Once the portal is commercialized, fintech companies will be able to develop creative services utilizing open APIs and receive support on development guide and test environment altogether.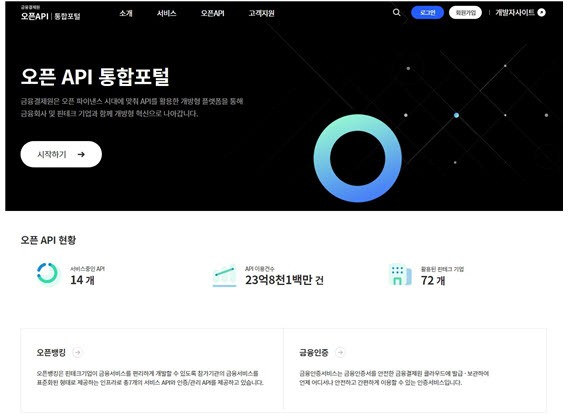 The threshold for development of financial services that has been very high will be lowered with the portal while the big blur phenomenon where IT and financial industries begin to merge together is expected to become even more intensified. The South Korean Government plans to look for unicorns with high potential in the fintech industry and convert financial infrastructures into an open financial ecosystem.
The environment for financial settlement in which only few organizations are currently participating in will be changed into an open system, and the entry barrier to the payment and settlement infrastructures will disappear through an open API system.

The KFTC plans to develop and operate an open API developer website along with an open API integrated portal. The portal will provide instruction on how to use open API, application for API, contract and issue of API key, management of history on service use, and MyHome (integrated dashboard) feature. The developer site will provide necessary technical materials such as documents and environment for testbed such as support tools.

Many South Korean fintech companies will be able to always use standardized API services continuously. Additionally, they will be able to design user-friendly user interfaces (UI) and user experiences (UX), and a platform in which various technical documents and information can be shared in real time will be launched.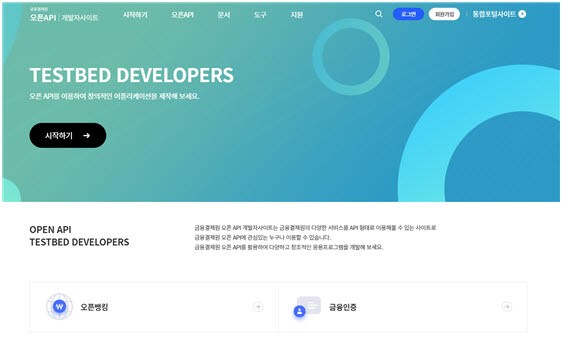 Companies that want to use open APIs will be able to use a testbed, which will allow them to examine technical documents and use open APIs beforehand, even before submitting an application to use an open API through an open API developer website.

The portal is also expected to reduce time required for service development of commercialized model, which takes months, by more than half as it can provide a one-stop service that includes issue of key for contracts and real transactions and inspection. With just an access to the portal alone, many companies will be able to receive every function necessary for business development. They can also set up key securities or use a feature that manages a breakdown of uses. The platform provides various services such as open banking, finance certification, open giro, and account information through an integrated window.

From a perspective of financial consumers, level of convenience in using financial services is expected to be improved drastically as creation of various combined services is expected to take place through the portal. Also, the portal is expected to be the starting point that greatly strengthens MyData right that strengths consumer choice and personal information control right.

"Starting with an open API integrated portal, we are going to establish internal standards for APIs and create a win-win financial ecosystem in which we can collaborate with creative companies." said a representative for the KFTC. "Starting from the first half next year, we are going to work on collaborative projects such as MyData intermediary service, joint data platform the financial world, and P2P central record management agency tasks with many companies."

Staff Reporter Gil, Jaesik | osolgil@etnews.com