Perfitt, a South Korean startup that has developed a service that recommends shoes according to shoe size through AI technology, succeeded in attracting a series A funding worth $2.26 million (2.5 billion KRW). With the newly acquired funding, it plans to continue to upgrade its AI engine and expand its business overseas.
"We recently succeeded in attracting $2.26 million during a series A funding round." said President Lee Seon-yong of Perfitt. "Sparklabs that has been our investor and new investors such as TBT, Capstone Partners, and Korea Credit Guarantee Fund participated in the funding round." Including the recent investment, Perfitt has now acquired $2.71 million (3 billion KRW) in total funding.
Perfitt started working on development of the service in 2018. President Lee, who was the founder of a women shoes online mall called "Shugazine", created "Perfitt AI" in order to lower number of returns resulting from wrong shoe size. Through AI machine learning technology based on data on 140,000 shoe sizes and 20,000 shoes, Perfitt AI recommends the best shoe size for customers.
Method of measuring one's shoe size is also very easy. One needs to just place his or her feet on top of a paper kit sent by Perfitt and take a picture using the company's app which then measures foot length, width of the ball of the foot, and height of the top of the foot. Perfitt registered two patents related to this technology in South Korea and the United States.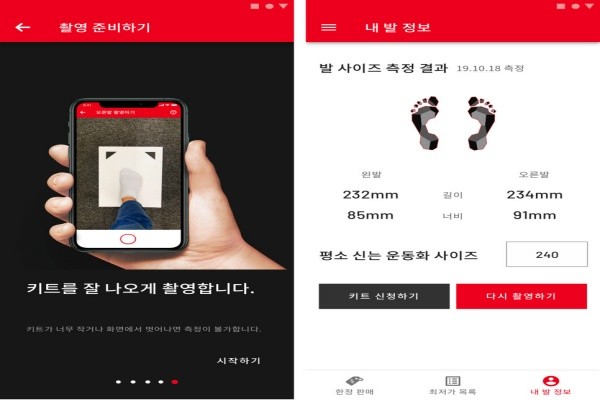 Perfitt officially launched the app in December last year after going through two years of testing period. In just about ten months, the app has more than 100,000 users. The company explained that 90.2% of the users are satisfied with shoe size recommended by Perfitt AI. About 40 different shoe brands such as Adidas and New Balance are on the company's platform.
"Shoe size is what customers think about the most when they are purchasing shoes from online shopping malls, and we believe that implementing a service that recommends shoe size through AI technology was rated high during the recent funding round." said President Lee. "We plan to solidify our business in South Korea and target foreign markets at the same time."
Perfitt plans to upgrade "Perfitt AI" with the recent funding. It currently uses a designated paper kit for the service and it plans to upgrade the technology so that just a sheet of printing paper can also be used.
It also plans to expand applications of the AI engine. While the engine is mostly for tennis shoes and sneakers, the company plans to include dress shoes, kids shoes, and designer shoes. It is also looking to set up a global business network by establishing an American branch and pushing for partnerships with global shoe distributors.
President Lee emphasized that monthly turnover has been increasing by 60 to 80% on average due to an increase in number of online shoppers and that the accuracy of the company's AI engine is becoming higher as the company is able to accumulate more data as number of customers increases.
Staff Reporter Sung, Hyeonhee | sunghh@etnews.com