Genesis Motor announced on Thursday that it has developed intelligent automotive technologies that boost levels of convenience and safety through biometric authentication technology and incorporate the technologies into "GV70" that is expected to be introduced to the public next month.
These new technologies are fingerprint recognition system linked to the company's automotive simple payment method called "Genesis Carpay" and radar sensor-based "advanced rear passenger alarm".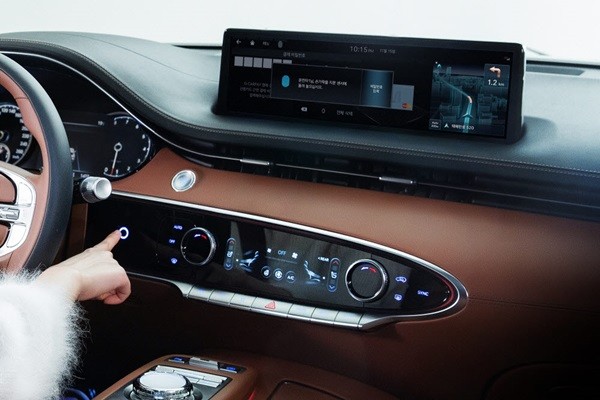 Although there have been cases of fingerprint recognition feature that opens door and starts the engine, this is the first time that a fingerprint recognition system linked to a car pay system is going to be available in a vehicle. This system improves levels of convenience and safety for drivers as they are able to make electronic payments with just their fingerprints.
This system can also be used for Valet Mode that turns off personal information from the infotainment screen when a driver has to entrust his or her car to a stranger for services such as parking and chauffeuring.
Also, one can open doors of GV70 through a smartphone connected application and turn on the engine through fingerprint recognition. When the engine is turned on through fingerprint recognition, the vehicle automatically sets up stored information such as seat location, handle location, HUD (Head-up Display) location, recent navigation destination, and infotainment volume.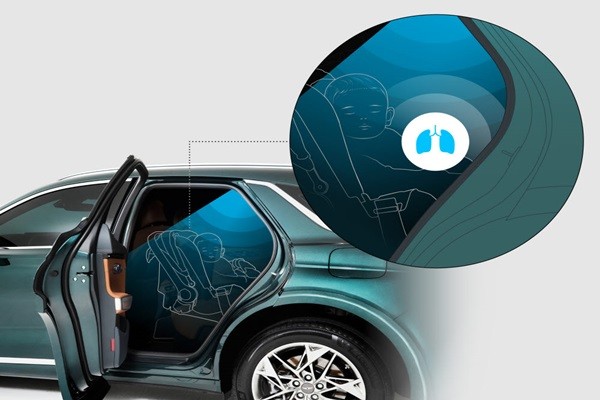 In addition to fingerprint recognition system, GV70 is the first vehicle in the world to be applied with advanced rear passenger alarm technology that is based on radar sensor that is more sophisticated than the existing ultrasonic sensor.
Rear passenger alarm technology alerts the driver whenever there is a passenger in the backseat through interior radar sensors. This technology alerts the driver that a passenger is still left behind in the backseat through cluster warning message or alarm after determining whether there is still a person in the backseat through whether the backdoors are open or closed and once the driver turns off the engine and opens the driver side of the door.
If the driver is not aware of the first alarm, radar sensors that are built in the roof detect a presence of a passenger in the backseat and turn on emergency lights and alarm signal and send a text message to the driver at the same time.
Radar sensors that are built in GV70 are able to sense even a small movement of upper body from breathing and detect babies in the backseat as a result.
"GV70 allows its users to use personal services and turn on the engine more conveniently through its fingerprint recognition system and it provides better safety for rear passengers through sophisticated radar sensors." said a spokesperson for Genesis Motor. "We plan to analyze information gathered through various sensors and upgrade biometric authentication technology for vehicles even in various mobility environments."
Staff Reporter Park, Taejoon | gaius@etnews.com