LSDTech, a South Korean company that specializes in high-performance servers, is looking to innovate the country's future national defense weapon system through its AI (Artificial Intelligence) server called "MAC-T (Multiarray Channel Transaction)".
The company introduced its products for next-generation national defense system at a seminar/exhibition that was held by Defense Information Communication Association (DICA) at the War Memorial of Korea on Tuesday with a topic "The Fourth Industrial Revolution and National Defense Based on AI Infrastructure".
Out of its products, its high-performance AI server called "MAC-T" drew the most attention. MAC-T is a server applied with server bottleneck zeroing technology and reduces electric rate by 40% and processing time of deep learning, machine learning, and rendering. LSDTech demonstrate an example applied with its MAC-T server that can be applied immediately to key fields of national defense.
"Our service has a L224S-V server creating an artificial situation where there are 3,000 concurrent connected users and allows continuous viewing of 4K VoD videos." said Kim Min-jae who is a senior researcher at LSDTech. "In case a user sends his or her images to an image service platform through GPU-based transcoding, our server converts file size and image quality according to the corresponding platform."
He also added that a user can set up a GPU cloud by utilizing a GPU virtual solution called Cheetah solution of "N3NCloud" and access a GPU farm using a computer without GPU resource and perform analysis and learning using AI.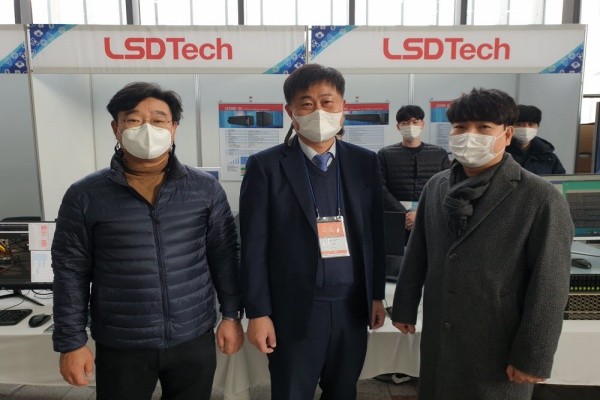 "We provide a system that analyzes images that go through 24-channel HD ITS camera on a L2212S-2G server and cracks down various violations that occur on roads." said Kim. "We provide a service where 24 ITS cameras are formed on a virtual network and single server is able to analyze 24 channels at the same time in 13 frames."
"It is a great honor for us to introduce high-quality brand to the field of national defense that has high entry barrier." said CEO Kim Seung-wook of LSDTech. "We are going to provide high-performance servers that are optimized for big data and rapid processing that can maximize IoT (Internet of Things) performance of future weapons."
The event was sponsored by LSDTech, NVIDIA, Unisem, o2ones, and Cubixel and it had about 100 ICT experts from industries, universities, research institutes, and the military who were there to look for ways to build effective military power and national defense management.
Chairman Song Young-seon of Korea Commercial Software Association gave a keynote speech with a topic "Military Digital Transformation Platform" at the seminar that was held before the exhibition.
"Lack of manpower that South Korean software companies is facing can be solved by teaching active soldiers about software development." said Chairman Song. "Training active soldiers by providing education on coding will be the second "bayonet skills" during an era of the Fourth Industrial Revolution." Chairman Song also added that software development competitions can be held for officers and soldiers in order to develop software that can be helpful for national defense and build next-generation national defense system and that they will have preferential selection from SW companies.
Staff Reporter Lee, Joonhee | jhlee@etnews.com