Unmanned low-speed special vehicle that cleans roadsides and collects municipal wastes will be introduced for the first time in South Korea next month in Gwangju.
Gwangju-si announced on Tuesday that it plans to work with Korea Institute of Industrial Technology's southwest branch and operate an unmanned street sweeper and an unmanned municipal waste truck for industrial complex for one year starting from the middle of next month for commercialization.
With Gwangju Pyeong-dong Industrial Complex at the center, the two unmanned vehicles will travel through seven blocks including Suwan district and Woochi Zoo Park. They will operate at a speed of 20 km/h and they will avoid rush hours.
The unmanned street sweeper is an electric vehicle developed and designed by AM Special Vehicle with a help from a local small and medium-sized company and it travels through a designated route at a low speed and cleans dusts on the road. The unmanned municipal waste truck is a 4.5-ton truck manufactured by Fine Motors by utilizing a Hyundai truck called Mighty. Workers who are waiting according to the operation time of the truck will load up waste into the truck.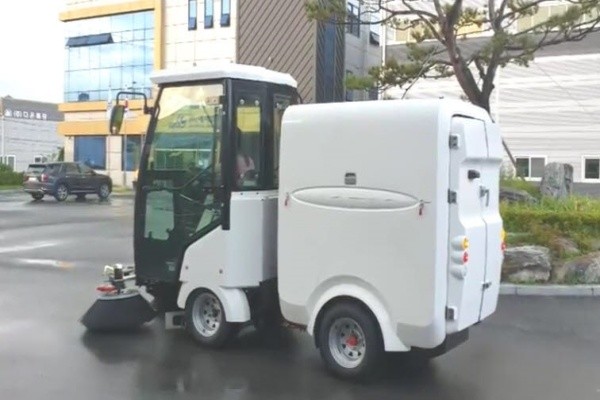 Testing of the two unmanned special vehicles will be supervised by the southwest branch and have 24 companies including four data processing companies and special vehicle manufacturers participating. The seven blocks where the trucks will be traveling through are designated as regulatory free zones by the Ministry of SMEs and Startups from December last year to November of 2023. Gwangju-si and the institute will be given exemptions regarding utilizing collected data and operating a control center for the two special vehicles.
The city and the southwest branch plan to hold a demonstration of the two special vehicles within the southwest branch on December 3. Starting from January next year, an unmanned municipal waste truck for residence and a public information collection vehicle for fine dust, pothole, and others will also go through pilot operation in the same seven blocks. The city and the institute plan to develop necessary parts for unmanned vehicles, necessary tests and evaluations, and integrated service systems for consumers through their pilot project and lead future auto industry.
"We believe that the project will encourage innovative growth by companies that manufacture parts for unmanned vehicles and spur their global competitive edge." said Park Joo-yeol who is the city's auto industry department. "We will create new growth engines by establishing and promoting an industry for high value special vehicles based on autonomous driving."
Staff Reporter Kim, Hansik | hskim@etnews.com