DID (Decentralized Identity) services are becoming a norm in South Korea. From consumers' perspective, they like the fact that authentication procedure of DID services is very convenient. However, there are still limited channels that are able to use DID services and companies that provide DID services require installation of their applications and simple registration procedure.
These are the result of using DID services that are actually commercialized. Military Manpower Administration's civil affair website's simple authentication that was set up by RAON Secure and Coinplug's unmanned convenience store access solution were the targets of the Electronic Times' investigation.
Conplug recently supplied Mykeepin solution to an unmanned convenience store "Deli in CVS" located in Anyang-si. Mykeepin is Coinplug's DID service. The convenience store is the first example that is applied with a DID system in South Korea.
First visit requires installation of an application and membership procedure. The convenience store had an instruction on how to install the Mykeepin application and register for the application. Once the authentication process was completed through a mobile device, a certificate in a QR code form was issued. To enter the convenience store, a Deli in CVS certificate was also required, and it was issued immediately with few touches on the screen. Authentication procedure was completed once the QR code was read by an entrance scanner.
After the first visit, time required to enter the store again was reduced greatly as store access only required fingerprint authentication and scanning of QR code.
Coinplug plans to add Deli in CVS simple payment feature into its Mykeepin application. The company also plans to open unmanned stores specifically for the solution in Incheon Metropolitan City and Jangji-dong in Seoul.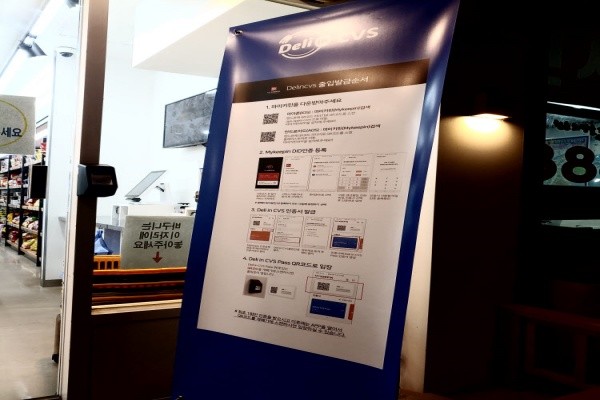 Military Manpower Administration's civil affair website offers blockchain-based simple authentication process. RAON Secure Omnione-based DID system is applied to the website. Prior to the application, the website offered methods such as official certificate, I-PIN authentication, and browser certificate. All of these methods were very inconvenient as one had to enter his or her name and social security number and go through either certificate login or mobile device authentication procedure afterwards.
When entering the website for the first time, one has to download the administration's simple authentication application and complete registration process through mobile authentication. Process was simple after that as login was completed by taking a picture of a QR code and going through biometric authentication.
Both services were very convenient. They were not difficult to use at all and both of them offer simpler authentication process than old methods. Once they become popular, there is a chance that they will have loyal users. Although they require first registration process, it did not require much time at all.
They also had their flaws. Based on a provider, one has to install a separate application and go through a membership process. The fact that DID services are still in their early stage also needs to be considered as it is still difficult to find places that are able to use DID services.
It is likely that more companies and government agencies will begin to adopt DID services starting from this year. Shinhan Bank also incorporated a DID service into its mobile banking application. Areas where DID services can be applied to are also widening. In addition to simple login and entry management, services related to online shopping and payment are expected to be commercialized in the near future.
Staff Reporter Lee, Youngho | youngtiger@etnews.com