Samsung Electronics has light up the fire to competition for cutting-edge chip by announcing a brand-new application processor (AP) based on 5nm EUV process. The company also plans to incorporate the process into its flagship APs in the future.
On Thursday, Samsung Electronics introduced a mobile processor "Exynos 1080" based on 5nm EUV process in Shanghai. This is the first time that the company manufactured AP using 5nm EUV process.
Exynos 1080 is a 5G processor that combines latest mobile data processing technologies into one powerful chip. CPU that is built in Exynos 1080 is designed with ARM's Cortex-A78 and Cortex-A55. It can operate at a maximum of 2.8 GHz and it has improved multi-core performance and power efficiency.
The chip also has ARM's Mali-G78 GPU that is based on second-generation Valhall architecture and it provides two-times better performance when it is used to operate games that require high-spec graphics. Not only smoother game screen is expected with this powerful chip, but much faster touch response rate can also be expected as well.
Exynos 1080 also has NPU (Neural Processing Unit) and DSP (Digital Signal Processor) that have recently started to gain attention. They are able to process 5.7 trillion digital signals per second and provide much smoother operation of augmented reality-based applications. ISP (Image Signal Processor) that supports up to 200MP connects up to six sensors and process three input signals at the same time and maximizes mobile device's camera performance.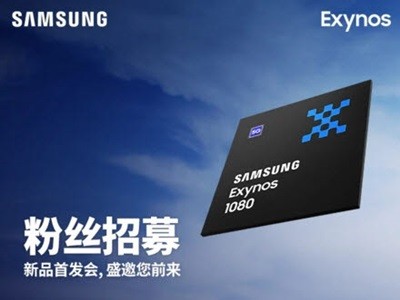 Exynos 1080 will make its debut through Vivo's 5G smartphone. This is why its introduction was made in China.
"Exynos 1080 provides powerful performance in 5G mobile network and on-device AI (Artificial Intelligence." said Shin Dong-ho who is the executive director of Samsung Electronics System LSI division. "We are going to provide the best computing performance to our consumers with this powerful chip."
Starting with Exynos 1080, Samsung Electronics will officially jump into 5nm AP competition that is actively taking place globally. Many multinational semiconductor companies are doing everything they can to develop 5nm AP. The global semiconductor industry is faced with a task of developing a chip that is able to handle enormous amount of data and has smaller size and narrower linewidth.
5nm EUV process has emerged as an alternative. Because the process is able to realize more detailed and even integrated circuits, major AP manufacturers such as Samsung Electronics, Apple, and Qualcomm have either introduced 5nm EUV process-based chip or are getting ready to introduce such chip.
It is reported that Samsung Electronics is also utilizing 5nm EUV process for "Exynos 2100", which is expected to make its debut through Galaxy S21.
As global chip makers are launching their own 5nm chips, competition between state-of-the-art foundries is also expected to become more intense.
One industry official said that 5nm production lines of TSMC and Samsung Electronics are operating at a very high rate as 5nm process has somewhat become regularized.
Staff Reporter Kang, Hyeryung | kang@etnews.com