Hyundai Motor Group has chosen NVIDIA as its partner that will provide key chips for connected car.
The fact that the group has joined hands with NVIDIA, which is known for its data-based deep learning, indicates that the group has secured an optimal AI (Artificial Intelligence) solution that is able to collect, analyze, and respond to every information on operating conditions of future cars on its own.
Hyundai Motor Group (Hyundai Motor Company, Kia Motors, and Genesis) decided to use chips from NVIDIA in every car that will be launched starting from 2022. Not only has the group secured a competitive advantage in price, but it is also at a favorable position in "customizing" that is specialized for its marketing strategies.
The group announced on Tuesday that it plans to apply a next-generation connected car operating system that is applied with NVIDIA's high-performance information processing semiconductor "NVIDIA Drive" to every car that will be launched starting from 2022.
Connected car is connected to real-time traffic information and outside information such as news, music, weather, and sports and provides optimal environment for driving to the passengers.
It collects enormous amount of information (data) that can occur during driving and even takes actions and makes final decisions on its own after analysis of the information.
NVIDIA is unrivaled when it comes to the fields of machine learning, graphic recognition, and data processing. NVIDIA Drive developed is able to process large amount of data at a very fast rate.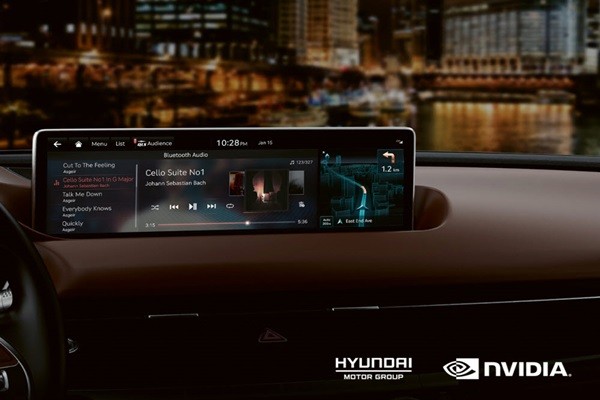 Hyundai Motor Group signed an agreement with NVIDIA back in 2015 regarding technology development and it has been conducting studies along with NVIDIA in order to apply connected car technology to actual cars. After years of R&D, it finally applied a connected car operating system based on NVIDIA Drive to Genesis "GV80" and "G80" that were launched this year.
With its agreement with NVIDIA, it plans to apply the operating system to every car that will be launched starting from 2022. Such plan is hardly being discussed by other automotive manufacturers and it indicates that the group has secured a cooperative system that is favorable for realizing connected cars that are specialized for the group.
The group's connected car operating system has four key capabilities. They are "high-performance computing" that supports data analysis technology such as deep learning, "seamless computing" that provides smooth connection between the car and its surrounding infrastructures, "intelligent computing" that understands the intent and the condition of a driver, and "security computing" that monitors networks inside and outside of the car in order to strengthen car safety.
Hyundai Motor Group plans to have its customers use the latest connected car service just with software update during their cars' life cycles.
The group is also working with NVIDIA in order to apply connected car information display system "digital comprehensive cockpit" that combines infotainment system, cluster, and HUD (Head-Up Display) to its products that will be launched in the future. It plans to display information related to safety and convenience of the driver during driving as 3D graphic animation.
"Compared to Qualcomm and Intel, NVIDIA is ahead in the fields of data processing and deep learning." said Professor Jeong Koo-min of Kookmin University. "Deep learning technology-based data convergence-type AI technology is expected to be at the core of Hyundai Motor Group's connected car strategy."
Staff Reporter Park, Taejoon | gaius@etnews.com