Lumens has decided to make flexible LED display as its new business. It is set to compete against others in the industrial display market after making LED lighting components that go into TVs, laptops, monitors, and LED car lights.
The company announced on Tuesday that it developed one of the industry's best flexible LED displays and is finished with making preparations for mass-production. It explained that it has begun expanding applications and searching for possible customers.
Flexible LED display uses LEDs as pixels and displays images or videos. Due to its flexibility, it can be easily installed at various places such as circular pillar.
The biggest characteristics of the company's flexible LED display are its thinness and lightness. The display is only 3 millimeters thin that is only a third of the thickness of other existing flexible LED displays. Its weight (300 grams) is also lower than half of the weight of other products.
Its radius of curvature of 300 millimeters makes it easy to be installed on a circular pillar or a curved surface.
Its width and length are 480 millimeters and 160 millimeters respectively. Although the dimension of individual display may be small, it can be attached to other displays like tiles and provide a design or a size that is desired by a customer.
In addition, the company emphasized that its flexible LED display minimizes number of cables required for installation and uses magnets instead so that it can be attached and detached easily.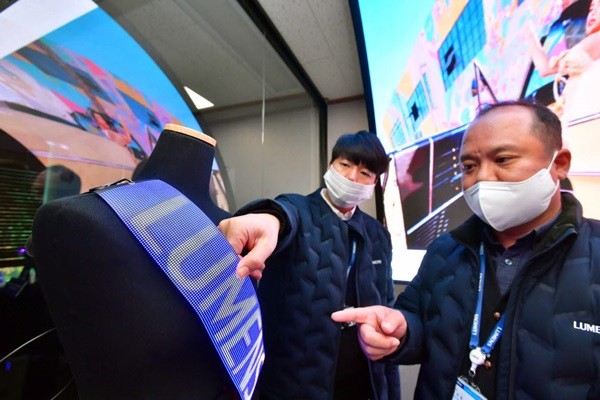 The company explained that it secured about ten important patents related to flexible LED display and its applications for the past two years.
"It was difficult for us to secure flexibility and durability at the same time." said a company official. "However, we ultimately achieved our goal by developing core technologies not just in LED but also in display and process."
Lumens is a company that has been supplying mostly LEDs that are used as backlight in TVs, laptops, and monitors. Although it has been a company that manufactures display components, it is looking to become one of very few LED companies from both South Korea and other parts of the world to commercialize LED display after development of LED technology and research and development on LED displays. In 2017 when the concept of microLED display was unfamiliar, it developed 0.57-inch microLED display and module-type LED panel that can be used to create a screen that is bigger than 100 inches.
Although it did not achieve much success in the microLED display market due to the market's slow growth, it decided to shift its focus towards the flexible LED display market by believing that such display will have high utilization as industrial billboard set up in subways or exhibitions. Along with the development of flexible LED display, the company is working to establish a cooperative relationship with companies that specialize in advertisement.
"We expect that we will be able to start making meaningful sales from our flexible LED display in this quarter." said a company official. "We plan to grow this business to be worth $8.97 million (10 billion KRW) next year and we are also conducting joint collaborations with top automotive manufacturers and electric device manufacturers from South Korea and other countries to have our product used for next-generation cars."
Staff Reporter Yun, Geonil | benyun@etnews.com