Development of autonomous boat has become the topic of conversations. Such boats can be utilized as a transportation method or a method for environmental improvement as they will be able to navigate on their own.
Massachusetts Institute of Technology's Computer Science & Artificial Intelligence Laboratory (CSAIL) announced that it recently developed Roboat II, which is an autonomous boat, for use in Amsterdam, Netherland.
Roboat II, which is 2 meters long and weighs 50 kilograms, was able to navigate autonomously for 3 hours through the canals of Amsterdam during a recent experiment. Its error margin was only 0.17 meters.
The boat is equipped with advanced LiDAR technology and GPS sensors.
It is MIT's second autonomous boat since the institute started the research since 2016. Roboat II is twice long than the prototype that MIT introduced for the first time last year. The institute's goal is to develop a boat that is at least 4 meters long as a third version of the Roboat series.
The research team that is involved is looking to conduct experiments in settings that are harsher. It recently began conducting experiments at Charles River that crosses Boston and Cambridge within the state of Massachusetts. It plans to develop an algorithm that will allow Roboat to navigate through complicated current and waves on its own.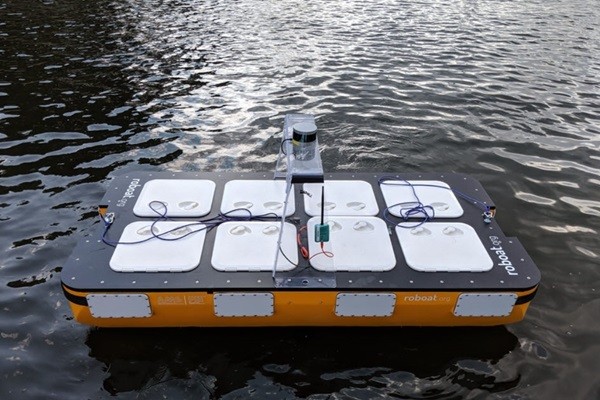 Roboat II is suitable as a transportation method as it has a space for 2 passengers. Third version of the Roboat series is expected to have 6 passengers on board. More than 6 people can also be on board as multiple boats can be linked in series.
The research team explained that Roboat II is able to perform various tasks in addition to transportation such as packing up trashes that are floating on the canals.
It is also working on a technology that will allow Roboat II to operate under a bad weather in order to have the autonomous boat utilized much more.
Meanwhile, there have also been active studies on autonomous navigation technology in South Korea as well. Samsung Heavy Industries recently succeeded in remotely controlling an autonomous vessel that is 38 meters long and weighs 300 tons. The company incorporated its remote autonomous navigation system "Samsung Autonomous Ship (SAS)" into "Samsung T-8" and demonstrated a remote control of the tugboat.
The South Korean Government have also providing financial support recently in order to realize related technologies. The Ministry of Trade, Industry and Energy and the Ministry of Oceans and Fisheries plan to invest about $143 million (160 billion KRW) until 2025 in order to develop autonomous navigation technologies.
Staff Reporter Kang, Hyeryung | kang@etnews.com