LG Innotek has successfully commercialized "high-efficiency ferrite" material that has the least power loss in the world. Until now, Japanese companies hold technological dominance on the global market. However, LG Innotek believes that it will be able to gain competitive edge in technology and price in the global TV and automotive markets by internalizing its own high-efficiency ferrite.
LG Innoktek announced on Wednesday that it has localized high-efficiency ferrite and it plans to supply its product for power modules that go into various IT devices.
Ferrite is a magnetic material based on iron oxide and is made into a chip shape by solidifying ferrite powders as a tile shape. It is usually used in TV power modules and car chargers in order to remove unnecessary signals that can occur due to voltage change or current wave.
High-efficiency ferrite is emerging as a next-generation material as it is able to supply power to latest IT devices such as TV display panels, air conditioners in cars and audios without any issue.
Japanese companies have been leading the global ferrite market with their superior technologies.
However, their products are very expensive and are very difficult to secure. As a result, international trade conflicts cannot be ignored.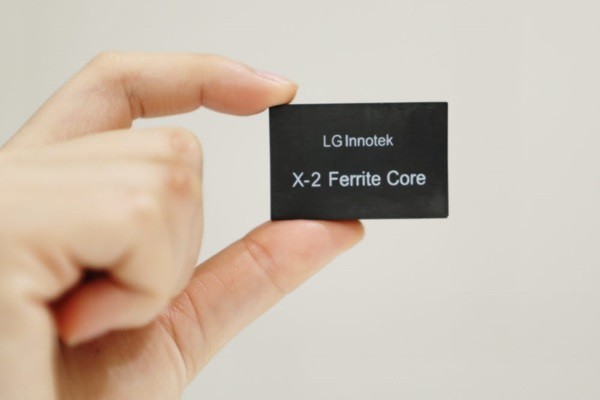 LG Innotek has been working on the development of high-efficiency ferrite since 2018. Because it believed that it would be difficult to close the gap between its products and Japanese products in a short period of time by using a standard development method, it became the first in the industry to use digital transformation and artificial intelligence (AI) and supercomputing technology during the design process.
By doing so, it has been able to shorten development period, which usually takes at least four years, to just one year and four months.
LG Innotek's high-efficiency ferrite can minimize amount of power loss due to heat up to 40% compared to normal ferrites. It is also able to maintain this characteristic between -40°C and 140°C.
In addition, it is able to reduce TV thickness by about 60% by reducing TV power module thickness to 9.9mm and it also increases energy efficiency by 5%.
When such ferrite is applied to automotive DC-DC converter, volume and weight of converter can be reduced by about 10% while energy efficiency can be improved up to 1.2%.
"Through our own methodology, we have successfully internalized high-efficiency ferrite in a short period of time and are able to supply it to our customers." said Bae Seok who is a member of LG Innotek's research committee. "We are going to continue to provide differentiated values to our customers with this product."
Staff Reporter Kang, Hyeryung | kang@etnews.com