Hyundai Motor Company's midsize electric vehicle "IONIQ 5", which is based on the company's new platform dedicated to its electric vehicles, will be sold between $42,900 (50 million KRW) and $45,400 (53 million KRW) depending on battery capacity in South Korea. Despite the car's high battery capacity, huge size, and advanced features, its price is not far off from "KONA Electric" that is sold at $40,300 (47 million KRW) and it is also about $8,570 (10 million KRW) cheaper than Volkswagen's "ID.4", which is a comparable model to IONIQ 5, that will be launched in 2021. It is the first family electric vehicle in South Korea that has a range of 500km with single charge and it can be purchased at a back end of $25,700 (30 million KRW) with a government subsidy. It is also expected to erase consumers' perception that electric vehicles are always more expensive than regular cars that run on gas.
IONIQ 5 that is expected to be launched in South Korea in April next year will be sold for $42,900 or $45,400 depending on its battery size of 58kWh or 72kWh respectively. Its long distance-type trim that comes with 72kWh battery comes with Hyundai's new platform dedicated to its electric vehicles and it has 8kWh more battery capacity than the long distance-type trim of KONA Electric (64kWh, 406km range). Its range is expected to be anywhere between 450 and 500km with single charge.
IONIQ 5 is available in 2WD and it is also available in 4WD as an option. It is also the world's first electric vehicle to be installed with V2L (Vehicle to Load) feature that allows its users to freely use up to 24 kWh worth of electricity stored in its battery. As a result, it is perfect for car camping and as a replacement for generators used for snack cars and event cars.
Unlike current electric vehicles of Hyundai Motor Group, it has cameras instead of side mirrors and does not have a gear box allowing easy and free movement between the driver seat and passenger seat. It also maximizes its interior space as its front seats can be made completely flat at a 180° angle.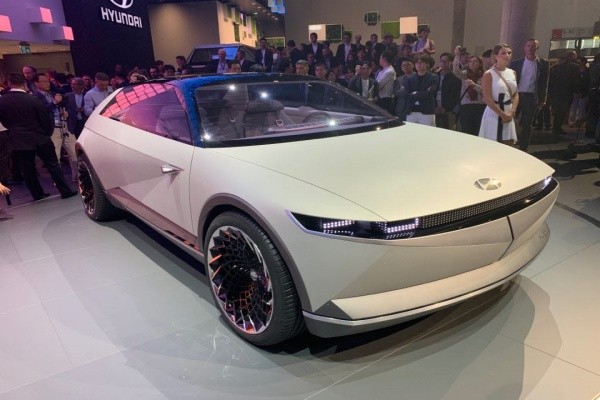 It is the first South Korean electric vehicle to support 350kW ultra-fast charging and it also comes with every advanced driver assistant system that Hyundai Motor Group has. It can go through real-time firmware update on its own and it is also the first electric vehicle in the industry to support contact-free charging service through "Car Pay". Hyundai Motor Company sees IONIQ 5 as an electric vehicle with the best cost-to-benefit ratio out of both domestic and foreign electric vehicles as its new electric vehicle provides optimal driving experience, latest safety and convenience features, and huge interior space.
IONIQ 5 is also comparable to Volkswagen's ID.4 that is expected to be launched in the first half next year. ID.4 comes with 77kWh battery and it is a midsize SUV with a length of 4,580mm and a wheelbase of 2,766mm. Depending on its specifications, its price can be anywhere between $58,500 (49,950 euros) and $70,200 (59,950 euros) based in dollars in Germany.
On the other hand, IONIQ has a longer length (4,635mm) and a wheelbase (3,000mm) and it is cheaper than ID.4. It can be even cheaper considering government subsidies. "Although we cannot disclose the prices of our new electric vehicle that is expected to be launched soon, it will be cheaper than other electric vehicles that are in the same class as IONIQ 5." said a spokesperson for Hyundai Motor Group. "Performance and prices of Kia Motors' "Imagine" that is expected to be launched after IONIQ 5 will be similar to that of IONIQ 5."
Staff Reporter Park, Taejoon | gaius@etnews.com