A South Korean small and medium-sized company has commercialized an innovative technology that is able to detect 99.9% of every fake fingerprint on the market through a film that is attached to smartphone.
A multinational semiconductor company based on Netherland is planning to conduct tests using the technology developed by a South Korean company. Once the company is given a green light to supply its innovative film, the film can be applied to every IT device including smartphone that requires fingerprint sensors and prevent fake fingerprint issue that has emerged as a serious social issue.
According to South Korea's financial and IT industries, Real iDentity (President Lee Seom-kyu) that specializes biometrics authentication modules and Seong Ji Industrial that specializes smart components and materials such as smart door lock have worked together to develop and commercialize world's first film-type fake fingerprint identification technology.
This technology can be applied to any fingerprint sensor that uses ultrasonic waves and it uses transparent film with 100% penetration ratio and it prevents electro pattern identification. It had also gone through tests that showed that the technology is able to prevent fake fingerprint based on almost every material such as silicon, gelatin, clay, and conductive rubber.
Financial incidents involving fake fingerprint have emerged as a serious social issue. They were seen as a serious issue during parliamentary inspections of government offices as mobile payments to government websites have been seen vulnerable to fake fingerprints.
The technology developed by Real iDentity and Seong Ji Industrial is based on miniature film attached to fingerprint sensors and IT devices. It is applied with an algorithm of 0% stealing acceptance rate (SAR) that uses machine learning on every fingerprint authentication types such as capacitive authentication, optical authentication, and ultrasonic authentication.
The technology is applied with Real iDentity's technology that induces very tiny amount of sweat and its powerful identification technology that detects one's identification by matching sweat to one's distinct biometric.
The film can also be used as transparent protective film.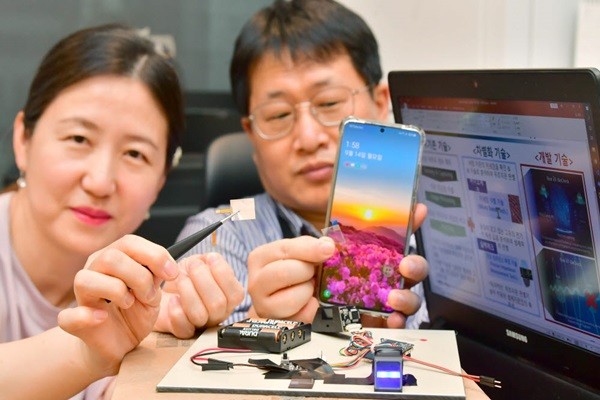 As personal authentication using smartphone has become more important due to increased contact-free fintech payments, global markets are also considering more strict biometrics authentication guidelines.
Actually, Google established a biometrics security measurement guideline starting from the Android version 9.
In other words, the guideline only accepts technologies with SAR under 7%.
SARs of current domestic fake fingerprint differentiation technologies are over 10%. In addition, the EMV camp made up of Europay, Mastercard, and Visa is also planning to replace billions of credit cards with fingerprint-based cards and made it official that it would apply identification technologies with SAR under 10%.
"Tests conducted on our technology were completed by a multinational semiconductor company based in Netherland and we received results back saying that the technology's SAR is 0%." said President Lee Seom-kyu of Real iDentity. "We sent a sample to another multinational company that told us that it wanted to conduct tests on our technology."
Film-type fake fingerprint identification technology integrates electrode into film and captures signal values with particular responses. It is able to differentiate fingerprints based on the fact that signal values are different based on fake fingerprint.
Signal values of fake fingerprints based on different materials such as gelatin, clay, and silicon are all different. Real iDentity and Seong Ji Industrial explained that their technology is able to differentiate fake fingerprints accurately by utilizing electrode with signal values of fake fingerprints integrated into film.
Current technologies are not able to prevent fake fingerprints that are more elaborate since they differentiate fingerprints with image obtained through fingerprint sensors.
Once tests on the technology are completed, Real iDentity and Seong Ji Industrial are going to start negotiating with multinational credit card companies in addition to smartphone manufacturers regarding providing its innovative technology.
As Visa and Mastercard are planning to replace all credit cards with fingerprint-based cards by 2023, Real iDentity and Seong Ji Industrial will look to secure smartphone manufacturers as their customers first and then start working on providing its technology for smart fingerprint-based credit cards and various IT devices.
President Lee told the Electronic Times that the company will do its best to have our technology be used in different industries since it can be applied to every product that uses fingerprint sensor.
Staff Reporter Gil, Jaesik | osolgil@etnews.com