Hyundai Motor Company made its first achievement within the company's nonautomotive division by exporting its hydrogen fuel cell system to Europe. It plans to target markets such as urban air mobility, train, and ship by expanding the application of its hydrogen fuel cell system rather than just focusing on fuel cell electric vehicle.
Hyundai exported its hydrogen fuel cell system to an European energy solution startup and GRZ Technologies (GRZ) based in Switzerland that specializes in energy storage in the form of hydrogen on Wednesday. This is the first time when hydrogen fuel cell manufactured in South Korea was exported as a component.
The exportation of hydrogen fuel cell system is the first overseas sale for Hyundai Motor Company that took place immediately after the European Commission announced its plan on hydrogen economy. It is a great opportunity to let European markets, which are the leaders in the global eco-friendly market, know about South Korean technologies. Europe is aiming to increase the percentage of hydrogen energy out of entire energy consumption to 12 to 14% by 2050 and has a huge potential for growth when it comes to hydrogen energy.
The hydrogen fuel cell system exported by Hyundai Motor Company is 95kW fuel cell system that is used its fuel cell vehicle called Nexo. GRZ and the energy solution startup will utilize Hyundai's fuel cell system to manufacture emergency power supply generator and eco-friendly mobile generator.
GRZ is a Swiss company that possesses its own hydrogen storage alloy (metal hybrid) technology and it is currently working on metal hybrid compressor and hydrogen adsorption analysis system.
Even prior to importing Hyundai's fuel cell system, GRZ has been working with Hyundai since the end of October last year regarding hydrogen storage technology. GRZ developed a technology that is able to store 5 to 10 times more hydrogen with pressure of 10bar that is noticeably lower than the pressure required to store hydrogen in a regular hydrogen storage tank that is generally between 200 and 500bar.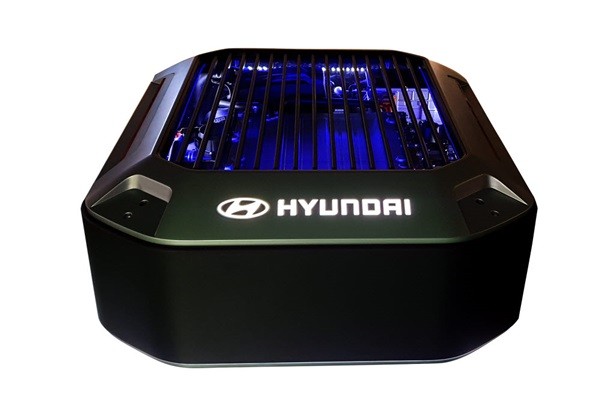 After working with an Australian research institution Commonwealth Scientific and Industrial Research Organization and Fortescue, which is the world's fourth biggest iron ore producer last month regarding development of hydrogen production technologies, Hyundai Motor Company was able to export its hydrogen fuel cell system this time.
By exporting its hydrogen fuel cell system, Hyundai looks to expand its hydrogen business by exporting its system to the U.S. and China in the future as fuel cell system can be used for various purposes such as ship, train, power plant, and military.
Hyundai Motor Company has been working on its hydrogen technologies through its vehicles and it already has them verified. It sold 4,987 units of Nexo last year making the fuel cell vehicle the most sold fuel cell vehicle in 2019 and it also sold 3,292 units in the first half which made the vehicle the most sold fuel cell vehicle in the first half. In July, it became the first automotive manufacturer to export 30-ton fuel cell electric truck.
Its recent exportation is meaningful due to the fact that it involves the company's nonautomotive division. It plans to lead the global market for hydrogen energy so that hydrogen energy can be used in all industries. While actively fulfilling the South Korean Government's Green New Deal policy, it is going to diversify its hydrogen business in order to secure leadership in future energies.
Kim Sae-hoon, who is the director of Hyundai Motor Company Fuel Cell Division, told the Electronic Times that the company's recent exportation of its fuel cell system proved that the system can be used for various fields and that the company's hydrogen business has a great chance to expand in the future.
Staff Reporter Park, Jinhyeong | jin@etnews.com