Samsung Electronics has established a lineup of the industry's first image sensors with 0.7µm pixel. Although the new 0.7µm-pixel image sensors are smaller in size, they are able to provide even clearer pictures due to their pixel size. Samsung Electronics is looking to secure technologies and competitive edge in image sensor in order to expand its influence within the global system semiconductor industry.
The company announced on Tuesday that it will be introducing four new 0.7µm-pixel image sensors.
These image sensors include "ISOCELL HM2" that is able to provide the industry's first 108MP with 0.7µm pixel, "GW3" that supports video recording at 4K at 60fps, "GM5" that supports ultra-wide angle pictures and folded zoom, and "JD1" with 32MP that is optimized for providing bezel-less design.
Image sensor acts as an "eye" within the camera of IT device. Once light comes through camera lens, it converts light into digital signals of "0" or "1" and sends them to image signal processor (ISP).
Mobile image sensors are becoming smaller. As more smartphones are being equipped with more cameras, number of image sensors that go into smartphones is also going up as a result. Semiconductor manufacturers have to develop sensors that are able to provide high-pixel pictures by making them smaller and reducing pixel size.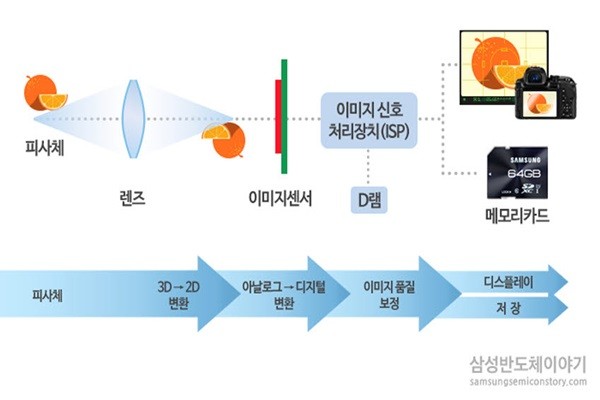 After developing the industry's first 0.7µm-pixel image sensor last year, Samsung Electronics has developed three additional 0.7µm-pixel image sensors. It is the first in the industry to establish a lineup of 0.7µm-pixel image sensors.
These sensors are applied with various technologies. Samsung Electronics applied its new "ISOCELL Plus" technology in order to minimize interference as the spacing between pixels has become narrower and the Smart-ISO technology to minimize noise. In addition, it is planning to apply other technologies such as "ISOCELL 2.0" and "staggered high dynamic range (HDR)" in order to maximize picture quality while reducing pixel size.
"Our 0.7µm-pixel image sensors are 15% smaller in size compared to 0.8µm-pixel image sensors and lower the height of module by up to 10%." said a spokesperson for Samsung Electronics.
After launching the industry's first image sensor with 1.0µm pixel and 0.9µm pixel in 2015 and 2017 respectively, it has been launching high-pixel image sensors with reduced pixel sizes every year. By doing so, it plans to target markets such as multi-camera, autonomous driving, and IoT (Internet of Things) that require image sensors.
By continuing to innovate its image sensor technologies, it looks to chase after Sony that holds about 50% market share.
Park Yong-in, who is the executive vice president at Samsung Electronics, said that the company is going to expand its image sensor business and overcome limitations by continuing to innovate its image sensor technologies with a lineup of new 0.7µm-pixel image sensors.
Staff Reporter Kang, Hyeryung | kang@etnews.com