As virtual desktop infrastructure (VDI) solutions are receiving spotlights due to more people working from their homes since the COVID-19 pandemic, two South Korean companies have worked together to introduce a VDI solution that is half the price of foreign solutions. Because their VDI solution was recognized of its performance after going through a proof of concept by a major company, it is expected to be a legit competitor within South Korea's VDI market that is dominated with foreign VDI solutions.
Crossent (CEO Jeon Hyeong-cheol) and TWOLINECODE (CEO Hyeon Seung-yeop) announced on Monday that they are going to launch a VDI solution called "DaaSXpert (Device as a Service) Ecobox" that combines a VDI software from Crossent and hyper converged infrastructure (HCI) hardware from TWOLINECODE.
VDI is seen as a technology that is a must for teleworking. By converting a work PC into a virtual PC, the PC can now be accessed from anywhere. As teleworking has become a norm for all businesses since the COVID-19 outbreak, there have been more demands for VDI solutions.
However, it has been difficult to introduce VDI solutions as businesses have to install expensive foreign software and expensive hardware so that the software does not become overloaded.
Since March when COVID-19 started to become serious, Crossent and TWOLINECODE have been working on a product that will compete against foreign VDI solutions. Crossent already possessed its own VDI solution even before it started working with TWOLINECODE. Its VDI solution beat out a foreign software and was selected as the network separation system solution for KDB Life Insurance early this year. After the VDI solution was recognized of its performance by a major company, there have been inquiries for the VDI solution by public agencies where security is very important.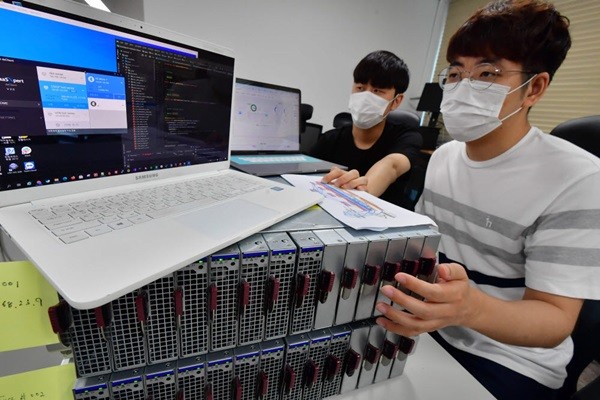 TWOLINECODE applied virtualization technologies to its hardware and it has materialized a "micro data center" where server, storage, and network are gathered into single cloud server.
By combining Crossent's software and TWOLINECODE's hardware, the two companies have developed an all-in-one VDI solution called Ecobox. This solution was verified of its performance by a major company before it was launched. After the verification, it was shown that the solution is half the price of VDI solutions that are currently used and reduce space and power consumptions by 85%. It costs around $508,000 (600 million KRW) to use a current VDI solution amongst 600 users due to expensive cost of foreign software and cost of hardware that includes switch and server. On the other hand, it only costs around $203,000 (240 million KRW) to use Ecobox. While the operating cost of a current VDI solution is $155,000 (183 million KRW) for 600 people annually, the operating cost of Ecobox is only $81,200 (96 million KRW).
Another advantage of Ecobox is its short "construction period". While a foreign VDI solution requires anywhere between one month to three months depending on its size, Ecobox can be set up and operated at most of workplaces in just six hours.
The two companies believe that Ecobox will make major achievements within the VDI market in the second half as it has many advantages compared to foreign VDI solutions.
"Although there are high demands for VDI solutions more than ever, many companies are hesitant about using foreign VDI solutions due to expensive cost and difficulty in operation." said CEO Hyeon Seung-yeop of TWOLINECODE. "Ecobox will provide many benefits not just for teleworking but also for education as well."
"It is extremely difficult to find a product that combines a VDI solution with software and hardware." said CEO Jeon Hyeong-cheol of Crossent. "We are going to look to target foreign markets as well and achieve good results."
Staff Reporter Kim, Jiseon | river@etnews.com