LG Electronics' exhibition booth at "IFA 2020", which is the biggest home appliances and IT exhibition that is going to be held in Berlin, has entered an online space. As a result, anyone will be able to experience its innovative technologies and latest products through a PC or a mobile device without having to actually visit the exhibition.
LG Electronics has decided to hold its exhibition booth online due to limitations in offline exhibition. It will be interesting to see whether online exhibition will develop into a new trend as it is applied with virtual reality (VR) and augmented reality (AR).
LG Electronics opened its 3D virtual exhibition for IFA 2020 with a slogan "Experience LG Like Never Before" on Tuesday.
Although there were times when companies introduced their products online or exhibitions were introduced online, LG Electronics is the first one to materialize a virtual space that looks exactly the same as an actual exhibition booth. LG Electronics explained that it has opened a virtual exhibition booth in order to participate in IFA 2020 according to the new normal era. Its virtual exhibition booth is based on Unity Technologies Korea's Unity engine.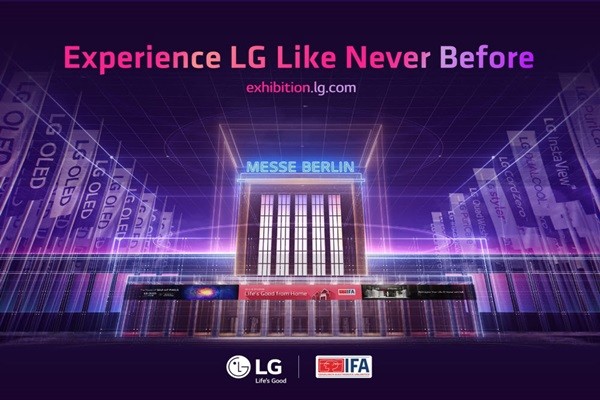 LG Electronics' exhibition booth can be viewed as a web version or by downloading an application using a PC or a mobile device and it supports many languages such as Korean, English, and German.
LG Electronics has materialized Messe Berlin Hall 18, which has been its IFA exhibition booth since 2015, virtually. Not only does its virtual exhibition booth differentiate the actual time in Berlin depending on the time of customer's access, it is also identical to the representation of the actual exhibition. As a result, customers will feel like they are actually in Berlin visiting the exhibition. They will be able to look around the exhibition along with audio guidance from a docent and see and listen to detailed explanation of a product by clicking it.
Once they step foot into the virtual exhibition booth, they will be greeted with a large 3D artwork of a "new wave" that is made up of OLED flexible signages. Since 2016, LG Electronics has shown OLED-based 3D artworks in various forms at global exhibitions. Once they pass by the OLED artwork, they will then come to face to face with a "rollup" TV that has a screen go from bottom to top and a "rolldown" TV that has a screen go from top to bottom. LG OLED TV's 4S (sharp, speed, smooth, slim) is also introduced at an exhibition zone made up of various concepts. LG Electronics also set up a premium audio listening zone that is made up of LG sound bar, XBOOM Go portable speaker, and wireless earphone LG TONE Free.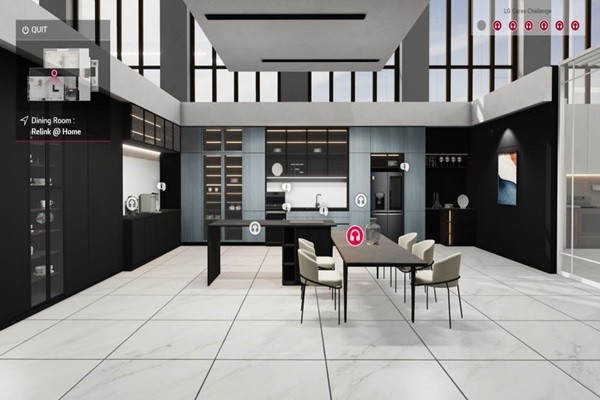 LG Electronics' home appliances and related services will be introduced through LG ThinQ Home. It has set up LG ThinQ Home in order to send a message to its customers that they will be able to go on with their daily lives safer and healthier under a hygienic environment. It will introduce products and services that correspond to concepts of seven exhibition spaces such as front entrance, living room, kitchen, and laundry room and it is also planning to demonstrate connecting home appliances to its ThinQ app and providing better solutions by understanding customers' requests in advance through artificial intelligence (AI).
"We are going to redefine home life through our innovative products and AI-based ThinQ solutions and offer unique ways." said a spokesperson for LG Electronics.
The industry is interested on whether this trend started by LG Electronics will become a new trend going forward for global exhibitions. It is expected that virtual exhibition will become a norm as "CES 2021" that is scheduled to be held early next year will completely be a virtual exhibition.
"Due to the COVID-19 pandemic, virtual exhibition booths and online conferences are taking place during this year's IFA." said a representative for the industry. "Because virtual space is becoming more real due to development of various ITs, it is expected that virtual exhibitions will become much more advanced and high-tech in the future." This representative also added that there will be more virtual exhibition booths taking place next year at CES and other global exhibitions.
Staff Reporter Kwon, Geonho | wingh1@etnews.com