The South Korean Government is looking to support South Korean companies with developing next-generation "K-batteries". It will especially look to push forward development of LG Chem's "lithium-sulfur battery" and Samsung SDI's "all-solid-state battery" that are crucial for South Korean battery manufacturers to preoccupy the future electric vehicle market. These next-generation batteries will be used in Hyundai Motor Company's electric vehicles and provide a momentum to an alliance between electric vehicle manufacturers and battery manufacturers in South Korea.
According to the industry on Tuesday, the Ministry of Trade, Industry and Energy (MOTIE) is going to invest $25.3 million (30 billion KRW) in different next-generation secondary battery development projects for the next five years.
ITECH is going to invest $5.07 million (6 billion KRW) every year for the next five years and support LG Chem and Samsung SDI with development of lithium-based batteries.
"Government expense worth $25.3 million will be used to develop next-generation battery manufacturing technologies and to enhance battery performance." said a representative for the MOTIE. "We are going to grab dominance within the global electric vehicle market by securing key battery technologies based on buyers' requirements."
Once projects are completed, a follow-up schedule on mass-production will be finalized as developed batteries will be used in Hyundai Motor Company's electric vehicles. The MOTIE and LG and Samsung have been pushing to develop electric vehicle batteries for a while according to the government's Green New Deal policy. At the end, they agreed on developing next-generation batteries that will go into vehicles of Hyundai and Kia Motors.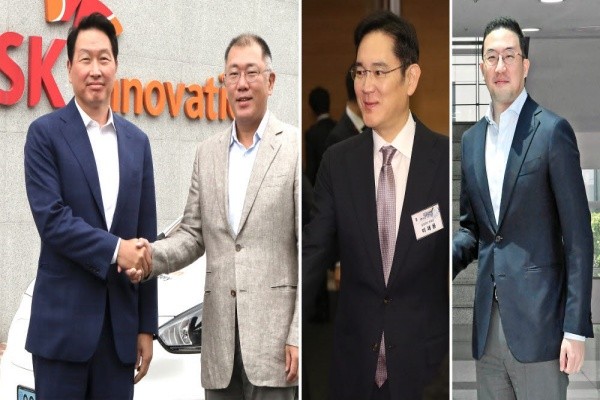 The government is going to focus on providing financial support for LG Chem's lithium-sulfur battery and Samsung SDI's all-solid-state battery as they are seen as potential candidates as a next-generation battery as they help increase range of electric vehicle and are stable at the same time.
Lithium-sulfur battery can increase range of electric vehicle as its energy density is two to three times higher than that of lithium-ion battery. Because sulfur is abundant in nature, production cost can also be reduced. However, it requires a large amount of liquid electrolyte that has an ignition risk. LG Chem had been working with KAIST and succeeded in developing a technology that will allow the company to manufacture lithium-sulfur battery with much less electrolyte. LG Chem is currently making preparations in order to commercialize lithium-sulfur battery in 2030.
All-solid state battery is a battery that eliminates any instability of liquid electrolyte as it uses solid electrolyte instead. While it does not require a separator, it needs to have more battery cells in order to raise energy density. Ion conductivity also needs to be raised by making movement speed of lithium ions faster. Samsung SDI is currently working with Samsung Advanced Institute of Technology in order to commercialize such battery in 2027.
The South Korean Government is planning to achieve early commercialization by pushing forward development of next-generation batteries by LG and Samsung as much as possible.
"It seems that the South Korean Government is looking to provide some support in order to speed up development of next-generation batteries since Hyundai Motor Company had meetings with South Korean battery manufacturers and discussed about potential collaborations related to electric vehicle." said a representative for the industry. "As a result, there is a greater chance now that relevant technologies will be developed much faster."
Staff Reporter Kim, Jiwoong | jw0316@etnews.com