It has been confirmed that VARTA, a battery maker based in Germany, supplied coin cell batteries to Samsung Electronics for its wireless earphone "Galaxy Buds Live". VARTA is a company that filed a lawsuit against Samsung Electronics earlier this year regarding coin cell battery.
After iFixit disassembled a Galaxy Buds Live, it found that the earphone contained a coin cell battery made by VARTA. This coin cell battery was 0.2Wh lithium-ion battery.
VARTA filed a lawsuit against Samsung Electronics in Germany and the U.S. back in February claiming that Chinese batteries that were in Samsung Electronics' Galaxy Buds" violated its patents. Although VARTA was also supplying its batteries for Samsung Electronics' wireless earphones, it filed a lawsuit in order to deal with entry of competitors.
VARTA withdrew from its lawsuit in the beginning of this month. The company stated that it decided to expand its partnership with Samsung Electronics and that it would become a battery supplier of Samsung Electronics' headsets for many years. It emphasized that it would become the "main" battery supplier for Samsung Electronics' headsets.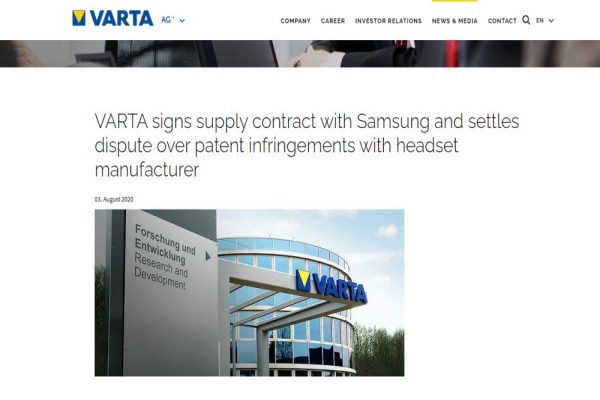 The company is well known for its batteries that are used for wireless earphones. It is currently supplying its coin cell batteries for AirPods Pro to Apple. It is well grounded with patents on subminiature battery.
Wireless earphone is an area that is emerging as a new market for the global battery industry. According to the industry, demands for battery cells used for wireless earphone will increase from 300 million cells in 2019 to 1.2 billion cells in 2025.
South Korean battery manufacturers are also strengthening their respective battery businesses for wireless earphone. Followed by LG Chem that supplied its cylindrical batteries to Apple for AirPods, Samsung SDI also entered the market this year.
Samsung SDI supplied its coin cell batteries to Samsung Electronics for the first time for its "Galaxy Buds Plus". The company made a statement during a conference call on the second quarter performance that it started supplying its coin cell batteries in the second half after receiving client approvals and that it would increase supplies on full scale starting from next year when it increases the number of its customers. Samsung SDI's coin cell batteries are also expected to be in "Galaxy Buds Live".
Staff Reporter Yun, Geonil | benyun@etnews.com