LG Display has begun expanding its touch integrated LCD business that is also called "in-TOUCH". Its strategy is to take active actions against the contact-free trend that is spreading due to the COVID-19 pandemic and target high value-added markets through its technologies that are more superior than that of its competitors.
According to the display industry on Wednesday, LG Display has begun manufacturing industrial in-TOUCH panels ranging from 50 to 80 inches at its fab in Guangzhou. The company is planning to pioneer new markets such as shelf for retail, kiosk, electronic blackboard, and digital signage by expanding the lineup of in-TOUCH panels down to 20 inches.
"We are currently manufacturing in-TOUCH LCD panels." said a representative for LG Display. "We are the only one that is supplying touch integrated LCD panels within the industrial panel market."
In-TOUCH is an innovative technology that equips touch sensors inside LCD panels and it is also called touch-screen panel (TSP). It provides excellent touch sensitivity and outstanding visibility and allows thinner product design. It has been utilized for mobile phones and car displays.
Industrial displays that generally do not require sensitive touch are mostly based on infrared (IR) or GFF (Glass window, film, film).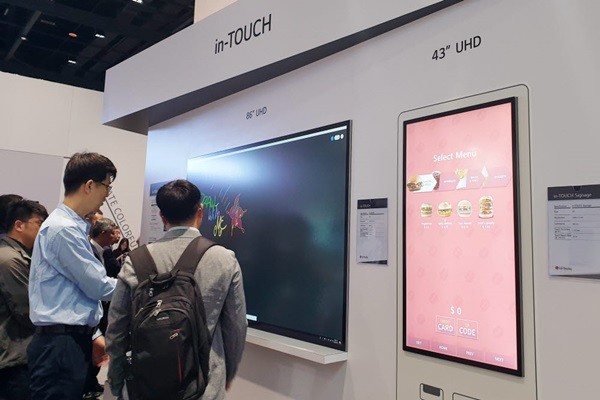 However, industrial displays now require better touch sensitivity as demands for industrial displays have been rising rapidly as the contact-free trend has been spreading globally due to the recent aftereffect of COVID-19.
In-TOUCH LCD is part of LG Display's strategy to promote its high value businesses that it has been actively pushing for since the beginning of this year. While cleaning up LCD lines that are used for TVs in South Korea as the lines have lose their competitive edge due to price dumping by Chinese companies, it will place much more emphasis on its LCD business that has competitive edge globally.
CFO Seo Dong-hee of LG Display made a statement during a conference call for the second quarter performance that the company is looking at its LCD business that is used for IT products as a new source of revenue and place emphasis on the business.
LG Display's Guangzhou fab, which has been on normal operation since last month, now manufactures the company's key models as it covers 48, 55, 65, and 77-inch OLED panels and in-TOUCH LCD panel. It is expected that the company will focus on expanding its high value-added LCD products while delivering OLED panels in a timely manner.
"As a contact-free culture has become a norm during the pandemic, there will be more demands for electronic blackboards for video conference and digital kiosks that are integrated with touch sensors." said a representative for the industry. "There is a good chance that LG Display will reorganize its LCD business centered on items with high business values."
Staff Reporter Yun, Heeseok | pioneer@etnews.com