SK Broadband is planning to expand the range of its satellite service business towards "uplink (transmission)" it is expected to compete with KT SAT that is monopolizing the satellite unlink market.
It was confirmed that SK Broadband is planning to submit a request for approval for its satellite uplink business to the Ministry of Science and ICT (MSIT) sometime this month. This request is part of a procedure to provide satellite services owned by foreign companies in South Korea. According to the Telecommunications Business Act, SK Broadband needs to obtain an approval for cross-border supply agreement.
SK Broadband receives foreign channels through its satellite center in Yeoju and provides a downlink (reception) service that sends foreign channels to paid broadcasting platforms. 28 satellite channels provided by its B tv are also received through its satellite center in Yeoju.
It is going to construct an uplink satellite earth station (teleport) at its satellite center in Yeoju and start its uplink business officially. Unlike how KT SAT and LG Uplus have their teleports in Geumsan and Asan respectively, SK Broadband does not have a teleport yet.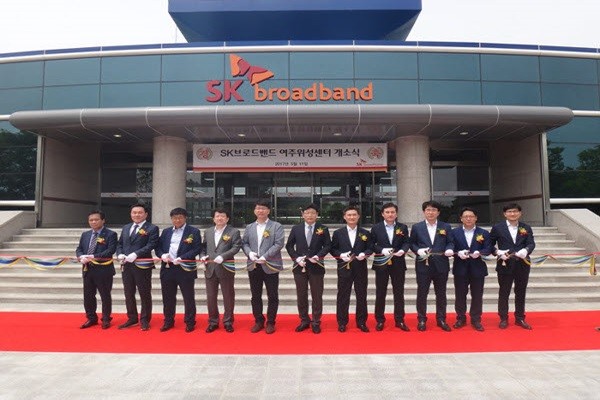 Based on its uplink teleport, it looks to expand its telecommunications, broadcasting, and data businesses utilizing satellite. Using a satellite network, it will be able to provide an exclusive line or an internet access service. In addition to receiving contents from overseas, it will look to send contents and broadcasting channels from South Korea to overseas. It can also provide a marine satellite telecommunications service for moving vessels.
It is heard that SK Broadband decided to expand its satellite service business towards uplink believing that there is an enough possibility to succeed within the uplink market due to satellite transmission demands between domestic and foreign businesses and the fact that the market is currently monopolized by KT SAT.
Satellites needed for its uplink business will be borrowed from overseas temporarily. The company provides its satellite service by renting satellite networks from foreign companies that own global satellite networks. It will link its uplink teleport to teleports of foreign companies in Hong Kong, Singapore, and Australia through an international line based on submarine cables.
Once SK broadband enters the satellite uplink market, it is expected to have a fierce competition with KT SAT as it is the only company in South Korea that provides uplink and downlink services based on its own satellites.
"This move by SK Broadband is its strategy to create new sources for profit by targeting increased demands for satellite service that are growing bigger." said a representative for the industry on July 26.
Staff Reporter Park, Jongjin } truth@etnews.com