A road has opened up for a medium-sized South Korean company to supply its 5G mobile network part. Qualcomm selected a South Korean product as an optimal solution that will be compatible with its 5G mobile chip. Qualcomm is the world's biggest mobile chip maker that has secured multinational smartphone manufacturers such as Apple, Samsung, Oppo, and Lenovo. There is a keen interest on this company as it has secured an opportunity to supply its 5G part.
DKT, a South Korean company that focuses on IT parts, announced on July 14 that its 5G antenna cable that was co-developed with BH received a final approval of use from Qualcomm.
This final approval indicates that DKT's 5G antenna cable is compatible and suitable for Qualcomm's next-generation 5G modem and that it will display an optimal performance under a 5G environment if it is used alongside with Qualcomm's mobile chip.
DKT's 5G antenna cable responds specifically to mmWave (24 GHz to 100 GHz). Qualcomm is planning to release a mobile chip that supports mmWave that is also called as "real 5G" in the second half and it selected DKT's antenna cable as one of optimal parts for its next-generation mobile chip. Not only is DKT's antenna cable approved to be used for Qualcomm's next-generation mobile chip, but it is also approved to be used for Qualcomm's current mobile chips that support mmWave.
5G antenna cable is used to connect RFIC (Radio-Frequency Integrated Circuit) module and modem of mmWave antenna. As transmission speed of radio wave has become faster and amount of data transmission has increased due to the evolution of mobile wireless technology, cable that connects antenna and modem now requires higher performance. DKT was able to meet Qualcomm's standard by using appropriate design and domestic materials with low dielectric constant that results in low lost signal. "Our cable is the only one that has received Qualcomm's approval of use for Qualcomm's next-generation 5G modem chip." said a representative for DKT.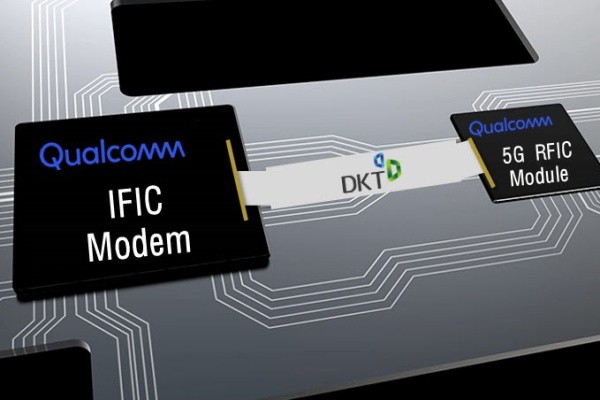 The reason why DKT receiving Qualcomm's approval for its 5G antenna cable is drawing so much attention is because now it has an opportunity to supply its cables to the global smartphone industry. Even through Qualcomm's mobile chip is used alongside of DKT's cable, this does not mean that DKT's cable is an essential purchase. However, DKT's cable becomes an important standard. Because Qualcomm's approval indicates that DKT's cable guarantees performance of a mobile chip, performance of a mobile chip that does not use DKT's cable cannot be guaranteed. Although Qualcomm's approval can be seen only as a recommendation, it can ultimately be seen as a strong recommendation.
Qualcomm is ahead of Samsung and MediaTek within the global 5G mobile chip market. Samsung Electronics that is the world's biggest smartphone manufacturer and also has its own 5G mobile chip also uses Qualcomm's 5G chips. Apple that was involved in a patent litigation against Qualcomm has also become Qualcomm's customer for Qualcomm's 5G chips. Because Chinese smartphone manufacturers such as Oppo, Vivo, Lenovo, and Xiaomi are also releasing smartphones with Qualcomm's 5G mobile chips, there is a high chance that DKT's 5G antenna cable will follow wherever Qualcomm's 5G mobile chips go.
"We had invested more than three years in order to develop 5G antenna cable." said a representative for DKT. "Now we are going to focus on having multinational smartphone manufacturers use our technologies."
DKT is approved by Qualcomm for its cable design and as a cable manufacturer. BH that is a subsidiary of DKT will be responsible for production of DKT's 5G antenna cable.
Staff Reporter Yun, Geonil | benyun@etnews.com