Huawei obtained a common criteria (CC) certificate for its 5G telecom equipment after applying for it about a year and half ago.
According to the Common Criteria Recognition Arrangement (CCRA), ENAC, which is an agency from Spain that issues accreditation for security, issued a CC certificate for Huawei's 5G telecom equipment. While it obtained certificates for LTE network equipment, database, and virtual product in the past, this is the first time Huawei obtained a CC certificate for its 5G telecom equipment.
ENAC issued a certificate for "Huawei 5900 Series 5G gNodeB software (SW)".
"gNodeB" indicates a 5G base station designated by the 3rd Generation Partnership Project (3GPP). A 5G base station is made up of antennas, core network signal transmitting equipment, and a SW that is installed into a core network signal collecting equipment.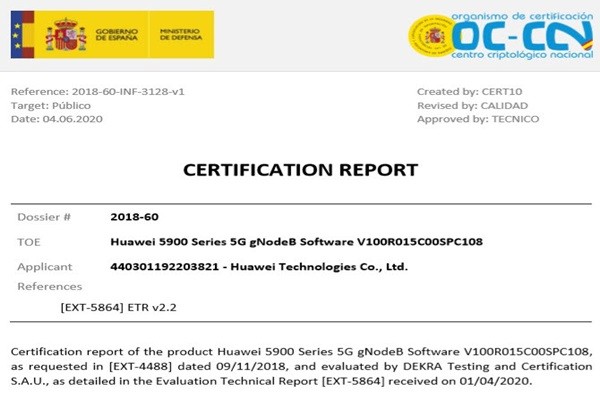 Huawei will use "Security Target" and it received "EAL4+ ALC+_FLR.2" as a security compliance grade.
A CC certificate lasts five years from the issue date.
Obtaining a CC certificate indicates that Huawei had gone through international evaluations for SW security that processes 5G data.
Staff Reporter Oh, Dain | ohdain@etnews.com