Performance of multinational semiconductor equipment makers such as Lam Research, Tokyo Electron (TEL), and ASML in this first quarter showed an upward trend compared to that of last year's first quarter. Despite the fact that there have been many uncertainties such as setbacks to their distribution and operation schedules due to COVID-19 and reduced demands for IT devices, it is shown that semiconductor companies are doing everything they can to supply systems and make investments.
According to the industry, Lam Research made $694 million in operating profit in this first quarter that is an 22.74% increase compared to its operating profit from last year's first quarter ($565 million). Lam Research mainly focuses on equipment used during the "etching" process.
TEL's semiconductor division's sales also showed a recovery trend. Its semiconductor division, which is responsible for about 95% of TEL's entire sales, made $2.89 billion (3.55 trillion KRW) in sales based on accounting standards from last year's fourth quarter. Its sales in the first quarter is the highest amount of sales in the last five quarters and its sales had continued to increase since last year's second quarter. TEL mainly focuses on coating systems that evenly spread photoresists.
ASML's operating profit and sales in this first quarter also saw an increase compared to last year's first quarter. ASML made about $464 million (570 billion KRW) in operating profit and it announced that its net deposit sales were $3.26 billion (4 trillion KRW). Level of interests towards ASML's equipment is very high as ASML is set to ship out 11 EUV systems that are only manufactured by ASML at the moment.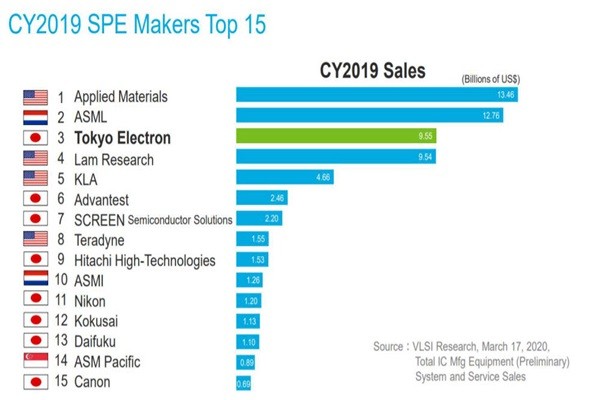 In case of Lam Research, it is understood that Samsung Electronics, which is Lam Research's biggest customer for its etch system, has significantly increased the number of etch systems it purchases from Lam Research since the last fourth quarter. Looking at Lam Research's sales based on locations, its sales in South Korea have increased significantly. While its sales from South Korea were the third highest after China and Taiwan with 18% until last year's fourth quarter, they were the second highest in this first quarter after surpassing Taiwan with 23%.
TEL's sales in South Korea are also gradually showing a recovery trend. "Investments in memory are also showing a recovery trend due to strong investments by the system semiconductor and foundry industries." said TEL through an announcement on its performance. "Our customers' plans on investments are progressing steadily without any noticeable change."
It is expected that ASML's EUV systems will soon be brought into South Korea as Samsung Electronics constructed an EUV production line at its P-EUV line in Pyeongtaek.
The industry is focusing on the fact that semiconductor companies are continuing to make investments in facilities and equipment despite increased uncertainties due to the COVID-19 pandemic. Although the global semiconductor processing equipment industry is facing difficulties in distribution and manpower, it is doing everything it can so that there is not any setback to its facility operation schedules.
Actually, it is heard that engineers from key semiconductor processing equipment makers were included in 200 people who were sent by Samsung Electronics at the end of last year on a charter plane regarding the extension of new lines of Samsung Electronics' plant in Xian. Also, it is understood that Lam Research recently resumed the operation of its plant in Livermore that was put on a temporary halt due to the spread of COVID-19.
"Although companies are trying to limit business trips as much as they can, they are carrying out various ways so that they can actively respond to requests from their customers." said a representative for the semiconductor equipment industry.
Staff Reporter Kang, Hyeryung | kang@etnews.com