A comprehensive EdTech site where contents and services of hundreds of South Korean EdTech companies can be found will be made. It is expected that the site will create an opportunity for EdTech to be vitalized within South Korea's public education market as teachers and students can easily access various contents.
Korea Edutech Industry Association (KETIA) announced that TIME Education, Tekville Education, Ubion, i-Scream media, and Mediopia Tech, which are seated as chairmen and vice-chairmen of the association, agreed on a need for a comprehensive EdTech site during a recent meeting and that they would work on building a comprehensive site that targets relevant companies.
This site will categorize of EdTech-related information such as content, solution, hardware (HW), and service. Its users can compare different services provided by different companies and use paid and free services. For example, a teacher can find study materials and relevant services on this site. One does not have to visit many sites in order to find contents and services that are currently spread out.
KETIA is planning to launch a site during this first half at the earliest depending on how quickly it can gather participating companies as online education has become an urgent issue due to COVID-19. It is first going to get in touch with its 315 members and ask their intentions. It is also going to ask non-members as well as it looks to have about 300 companies participating in the project.
When a certain number of companies gather to participate in the project, KETIA is going to create a task force (TF) and work on building a site on full-scale. It will also look for cooperation with the South Korean Government in order to inform the public education market about its project.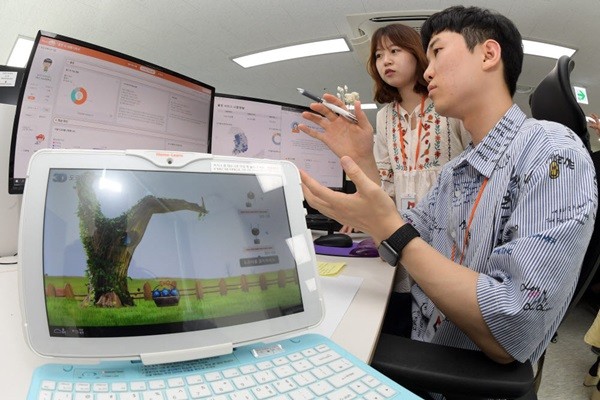 The main reason why KETIA is looking to build a comprehensive site is because it wants to vitalize EdTech within the public education market. As of now, it is virtually impossible for EdTech companies to enter the public education market. Because they are seen as "companies for private education", the number of EdTech services used by public schools is very few. Even if EdTech companies with competitive edge tried to enter public education markets in different countries, they had had difficulties doing so as they lacked domestic cases.
Weak school IT environment is another impediment towards introduction of EdTech. Current Wi-Fi infrastructures set up within elementary, middle, and high schools cannot accommodate entire classrooms and students. This is completely different from how home smart learning services such as i-Scream edu (home learn) and Chunjae Education (Milk T) that have 100,000 members start to make their appearances within South Korea's EdTech private education market.
Although online education had to be implemented unexpectedly for elementary, middle, and high schools due to COVID-19, introduction of EdTech is a task that cannot be avoided. KETIA is planning to utilize the comprehensive site to help South Korean EdTech companies to enter South Korea's public education market. It expects that there will be an increase in number of teachers using EdTech services as the site will make EdTech easily accessible. Its plan is to prevent multinational companies such as Google from introducing their services first and giving no opportunity for South Korean companies to enter the public education market at all.
Public education can evolve through EdTech and there can be personalized study using AI. KETIA believes that South Korean EdTech companies can go overseas if they are able to accumulate references within South Korea's public education market.
Foreign countries such as the U.S., China, and United Kingdom are actively introducing EdTech to their public educations. China has incorporated AI into its public education. Public schools in the U.S. currently use services from EdTech companies. United Kingdom is looking at EdTech as one of innovative fields during the Fourth Industrial Revolution. Schools and companies in these countries have worked together to establish EdTech ecosystems.
"EdTech has become an essential trend." said Director Lee Kwang-sae of KETIA. "We hope that our comprehensive site will help EdTech companies and teachers to grow together."
Staff Reporter Jeon, Jiyeon | now21@etnews.com