As South Korean universities have fully implemented online lectures, they have emerged as new market for South Korea's cloud industry. In order to handle increase amount of traffic due to videos, universities have started to introduce outside cloud computing services. It is expected that increase demands for cloud computing services by universities will help South Korean cloud computing service providers, which have fallen behind of foreign companies within South Korea's corporate cloud market, to make a noise within the university market.
According to universities and the industry, there has been a surge in number of universities that have recently adopted cloud computing services or increased capacities of their current cloud computing services. As universities have started offering hundreds and thousands of online lectures in order to stop the spread of COVID-19, they believe that it will be difficult for them to accommodate a large number of online lectures with current infrastructures.
Dankook University, Sungkyunkwan University, Soonchunhyang University, Ewha Womans University, and Chung-ang University started offering online lectures this month and they have adopted KT's cloud computing service in order to stabilize amounts of traffic. Hanyang University increased the capacity of KT's cloud computing service when streaming of online lectures became unstable. KT announced that about 50 universities have begun to use its service in this month alone.
There is also an increase in number of inquiries for Naver's cloud computing service by universities. Currently about 30 universities use NBP (Naver Business Platform). "When this month started, number of inquiries by universities increase by two-fold compared to any other month."
Korea University and Sookmyung Women's University increased the capacity of AWS' cloud computing service this month. Kookmin University, Dong-A University, and Yonsei University are also using AWS' service.
Four universities are using NHN's cloud computing service. "As number of inquiries started to increase rapidly this month, there are universities that started to use our service or are in discussions with us regarding our service." said a representative for NHN.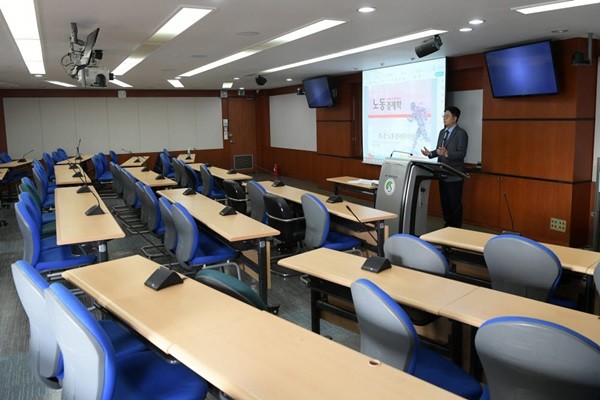 Cloud is useful when amount of traffic makes a sudden rise temporarily. It is more effective to use cloud than on-premise methods from aspects of construction time, initial cost, and extension of servers through auto scaling.
"Current servers cost too much as infrastructures need to be changed periodically and they have limited capacities." said a representative for a university. "However, because cloud offers much freedom and its capacity is almost unlimited, it is an excellent choice to provide online lectures without any setback."
If online lecture becomes generalized, university will be a new market for South Korea's cloud industry. It is heard that a university pays anywhere from tens of thousands and hundreds of thousands dollars monthly to use a cloud computing service. One university paid $19,000 (23 million KRW) for a two-months use of 50TB cloud computing service. If universities that currently experience advantages of cloud computing service expand cloud services to their information-oriented businesses, there will be more demands from universities. Because there are about 330 universities in South Korea, they have formed a huge market for the cloud industry.
As more universities begin to adopt cloud computing services, this trend will unfold direct confrontations between South Korean cloud companies such as KT, NBP, and NHN and foreign companies. Foreign companies such as AWS and Cloud have been providing their services to universities for their infrastructures and coding education. Inexpensive cost and 24-hour support are South Korean cloud computing services' advantages compared to foreign services.
It is expected that South Korean companies will secure a new opportunity within the global cloud market. South Korea's cloud market is heavily dominated by foreign companies such as AWS and Microsoft as they take up more than 80% of the market. "When South Korean cloud companies secure public references, these public references will help them a lot with obtaining other projects." said a representative for the industry.
Staff Reporter Jeon, Jiyeon | now21@etnews.com