National R&D budget planning system is also seen as a factor that weakens primary functions of Presidential Advisory Council on Science and Technology (PACST). PACST's council is going to deliberate and vote on a following year's R&D budget by end of June of the previous year and hand over the plan to Ministry of Economy and Finance (MOEF).
Afterwards, MOEF will decide on R&D government budget policy in August when tax revenue and annual expenditure are determined. Government budget policy is different from a budget that goes through PACST's council as MOEF can either increase or decrease a budget depending on circumstances.
While MOEF decides on R&D government budget policy, additional projects that were not included in an initial deliberation can be added by MOEF. When MOEF was deciding on the 2019 R&D budget in 2018, final 2019 R&D budget had $346 million (400 billion KRW) more than the original plan deliberated and decided by PACST as MOEF added new projects to the 2019 R&D budget.
When MOEF decided on the 2019 R&D budget, proper deliberations by PACST on new R&D projects proposed by MOEF did not take place. The National Assembly and the scientific world criticized South Korea's R&D budget planning process for passing over PACST. They were also concerned that PACST's role to deliberate on budget, which is PACST's unique authority, could be diminished.
Although MOEF has changed the R&D budget planning process by having PACST deliberate on new projects added by MOEF, the situation has not changed much.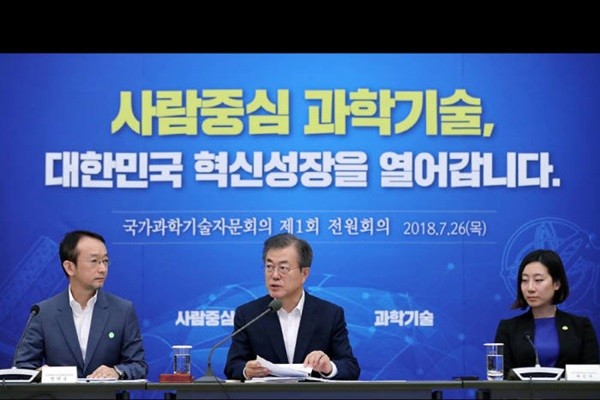 After PACST had deliberated on this year's R&D budget last year, Japanese Government imposed trade restrictions on South Korea. MOEF then increased the budget by $2.59 billion (3 trillion KRW) compared to the initial resolution decided by PACST. Although the budget increased drastically as many new projects related to localization of key materials, components, and equipment were added to the project, proper reviews and deliberations did not take place.
There was not enough time for proper reviews as many new projects were added, and MOEF had operated the budget planning process behind a closed door due to security reasons.
Realistic alternative is to delay the deadline for PACST to finish its deliberation until government budget policy is finalized. Because this is an issue where laws need to be revised, there is a high chance that the National Assembly will make an issue of it. Resistance from MOEF is also expected.
"It is true that we absolutely lacked addition time for deliberation as this year's R&D budget increased drastically after we deliberated and decided on this year's R&D budget and Japanese Government imposed its trade restrictions on our country." said Vice-Chairman Yeom Han-woong of PACST. "We need to look at various ways for improvement."
Controversy regarding how spending limit is set will also continue. While the government had pushed for a plan that would have MOEF and Office of Science and Technology Innovation set up the spending limit together, its attempt was an unsuccessful one. As a result, Office of Science and Technology Innovation's and PACST's roles on distributing and adjusting and deliberating R&D budget have diminished significantly.
"Our governance roles are limited throughout overall processes including distribution, adjustment, and deliberation on R&D budget." said a representative for the scientific world. "Such limitation is connected to the issue regarding how efficiently R&D budget is used."
Staff Reporter Choi Ho | snoop@etnews.com