Cutting-edge recognition service that allows owners of companion animals to register their pets has been developed by a South Korean company. Union Community (President Shin Yo-shik) is planning to introduce a service based on deep learning algorithm that can register nose prints of companion animals and it is also going to exhibit relevant technologies and products at CES 2020. Its service will contribute to the animal's nose print recognition market establishing itself as a new category.
Animal's nose print is similar to human fingerprint. Because individual animal has its own nose print, nose print can act as an identification card when registered. Current technology that recognizes nose print takes a picture of a companion animal's nose and finds distinctive features. On the other hand, Union Community's nose print recognition solution registers data on nose prints and allows nose prints to be searched. Nose print has atypical pattern without ridges just like fingerprint. It is difficult to establish data as nose prints are not uniform. Union Community has learned nose prints of companion animals through deep learning technology and calculated vector values and obtained distinctive features. If its technology is recognized as an international standard technology, it can replace current micro-chip market.
Union Community has applied its biometrics recognition technologies to its nose print recognition solution. It has developed a nose print scanner called 'UBio Pet ID' that is applied with optical sensor and breaks from a simple method of taking picture of a companion animal's nose and capturing distinctive features. Optical sensor scans and understands every small pattern of a companion animal's nose and helps with obtaining an accurate nose print. Both one-to-one matching method that is used for an authentication service just like a fingerprint registration algorithm and several-for-one matching method that finds registered companion animal from a group are available.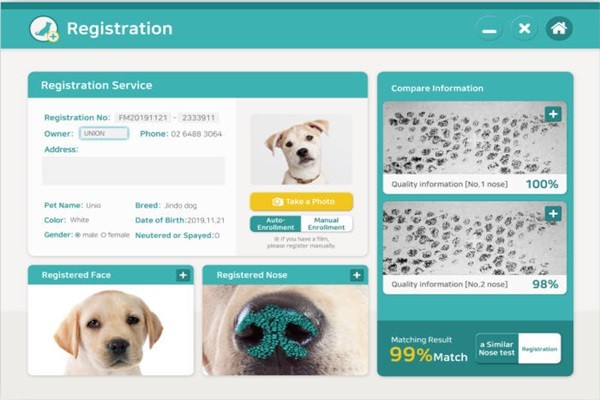 Union Community has applied for patents on its nose print scanner and nose print registration method in South Korea and it also finished applying for international patents through PCT (Patent Cooperation Treaty). It is going to introduce its nose print recognition solution for the first time at '2020 CES' that will be held in the U.S. from the 7th to the 10th of January.
It is also preparing a business model based on companion animal and owner. When a companion animal goes missing and is reported by its owner, a person who finds the missing animal can notify its owner. The model will also include a service that registers identifications of companion animals and allows identifications to be checked at insurance company, hospital, and hotel. "We are planning to introduce a leading pettech product by combining algorithm technology and optical sensor manufacturing technology." said President Shin Yo-shik. "As the database becomes bigger from increased users, the accuracy will be improved through AI-based algorithm."
Union Community is a company that specializes in forged fingerprint protection technology and optical fingerprint recognition technology. It has developed biometrics recognition device, fingerprint recognition module, and ID scanner based on its fingerprint and face recognition technologies. It is currently selling its products in South Korea and 100 different foreign countries.
Staff Reporter Oh, Dain | ohdain@etnews.com