South Korea's rental market has become a rivalry of local barons. While Woongjin Coway is maintaining the top place, other companies are fiercely competing for the second place through large investments. While the industry is focused on securing rental accounts, performance of home appliance rental companies is rising sharply.
◊Companies fiercely fight for the second place within the rental industry
Competition for the second place has narrowed down to LG Electronics and SK Magic.
LG Electronics recently announced during a conference call for investors that it would achieve 2 million accounts by the end of this year. It is unclear how many accounts LG Electronics currently has. However, the industry estimated that LG Electronics had about 1 million accounts in early phase. This is the first time LG Electronics has publicly announced how many accounts it currently has.
"Although we cannot disclose the exact number of accounts, the number of our accounts is at the latter end of 1 million." said a spokesperson for LG Electronics. "Because we stated the number of our current accounts during a conference call, we will be able to have 2 million accounts by the end of this year."
LG Electronics is a multinational home appliance company and this is an advantage for LG Electronics to quickly secure rental accounts. While it sells products in a lump sum, it also sells home appliances through rental channels at the same time. Consumers can also purchase 'Care Solution', which is a care service similar as rental visiting service, for products that they purchased in a lump sum.
There is a buzz within the industry about the recent announcement made by LG Electronics. "Water purifier is the main item for rental services. Considering the annual size of the water purifier market in South Korea, 2 million accounts are not mathematically possible." said some people within the industry.
SK Magic is also continuing to grow its rental business. It stated that it currently has about 1.75 million accounts. The biggest strength of SK Magic is collaboration between subsidiaries. SK Magic actively collaborates with SK Telecom and it also has high expectations from working with different rental businesses such as SK Rent Car and AJ Rent Car that are subsidiaries of SK Networks. Synergy from collaboration between SK Magic and subsidiaries is maximized as subscription economy grows.
SK Networks, which is the mother company of SK Magic, has strong will for expanding its rental business. Until recently, it was seen as the top candidate to acquire Woongjin Coway. Actually, SK Networks along with Haier, Carlyle, and Bain Capital were selected as favorite candidates to acquire Woongjin Coway. However, SK Networks did not participate in the actual bidding for Woongjin Coway. It is heard that the difference in understanding of the amount of acquisition is the reason why SK Networks fell out of the process of acquiring Woongjin Coway.
Another possible reason why SK Networks fell out is because it has high expectations on SK Magic. SK Networks has been making a high growth trend for many years. In 2016, SK Magic made $376 million (437.2 billion KRW) and $33.8 million (39.2 billion KRW) in sales and operating profit respectively. In this past quarter, it is estimated that SK Magic made $245 million (284.7 billion KRW) and $30.3 million (35.2 billion KRW) in sales and operating profit respectively. Basically, SK Magic's single quarter performance is almost similar to its annual performance in 2016.
SK Magic's third quarter performance grew drastically compared to its third quarter performance from last year. Its sales and operating profit increased by 70.9% and 154% respectively. In the midst of a sharp upward trend, SK Magic's goal is to make $672 million (780 billion KRW) and $60.3 million (70 billion KRW) in sales and operating profit respectively this year. Its sales and operating profit from last year were $554 million (643.8 billion KRW) and $40.6 million (47.1 billion KRW) respectively.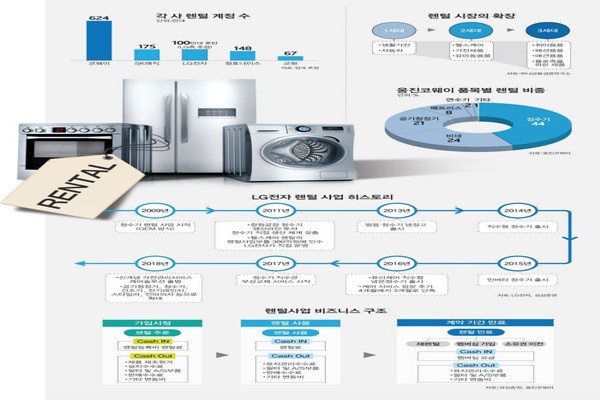 ◊South Korea's rental market expands dramatically
It is estimated that there are about 12 million accounts within the rental market in South Korea. These accounts are separated by Woongjin Coway (6.24 million), SK Magic (1.75 million), and LG Electronics (latter end of 1 million), Chung Ho Nais (1.48 million), Cuckoo Homesys (1.47 million), and Kyowon Wells (670,000). Although the exact number of LG Electronics' accounts, which is currently not known, is a variable, the number of accounts within the market is already approaching 12 million even without LG Electronics' accounts. There are many smaller rental companies as well in addition to major rental companies. As a result, there is a high chance that the size of the rental industry is bigger than what it seems to be.
Other major companies and midsize companies that do not have their own rental businesses are also starting to enter the market. As a result, the industry is expected to grow even more in 2020. Including Hyundai Rental Care that is seen as the up-and-coming rental business, Winia SLS and Carrier have entered the market. It is heard that other top companies are also looking into entering the market.
It is expected that the market will be faced with new conditions in 2020. At the end of this year, it will be determined whether Netmarble will acquire Woongjin Coway. This acquisition will be one of key points that will predict next year's rental market. Everyone agrees that the industry will also maintain its high growth trend in 2020.
"Major companies have no choice but to follow a new economic trend called subscription economy. Rental companies are enjoying high growth and significant profit ratio." said a representative for the industry. "While LG and SK are making profits from their respective rental businesses, it will be no time before other major companies also join the market as well."
Staff Reporter Lee, Youngho | youngtiger@etnews.com