Kolon Industries has finally succeeded in supplying its 'transparent polyimide (PI)' to a major Smartphone manufacturer. It has performed more than 10 years of R&D on transparent PI that is one of the next-generation display materials.
According to the industry, it is understood that Huawei's 'Mate X', which is supposed to go on sale within China on the 15th of next month, is equipped with Kolon Industries' transparent PI.
Mate X is the first foldable Smartphone of Huawei that is the second biggest Smartphone manufacturer in the world and it is applied with 'out-folding' design that has its 8-inch display folded outwards. Kolon Industries' transparent PI is attached to the display of Mate X and protects the screen from outer impact.
Transparent PI, which is a type of super-engineering plastic, is resistant against heat and impact and flexible at the same time. Unlike glass that cracks from impact, transparent PI can be folded or rolled up and it is seen as the material for a cover window that protects the screen of a next-generation display device such as foldable Smartphone or rollable device.
Kolon Industries started its R&D process on transparent PI in 2006. It started working on the development of transparent PI believing that the value of colorless and transparent PI would be high if it is able to replace glass and it finally succeeded in developing its own transparent PI in 2016. Kolon Industries invested $77.1 million (90 billion KRW) in order to commercialize its transparent PI on full-scale and it also built the industry's first transparent PI mass-production plant.
However, it had had a difficulty in supplying its transparent PI. Although it was recognized for its technical skills as it had participated in almost every development project of foldable Smartphone, it had gone through continuous disappointments from unexpected variables because foldable Smartphone was a brand new concept at that time and the release of foldable Smartphones was delayed. The release date of Huawei's Mate X was also delayed many times due to the trade war between the U.S. and China and it is finally set for the 15th of November.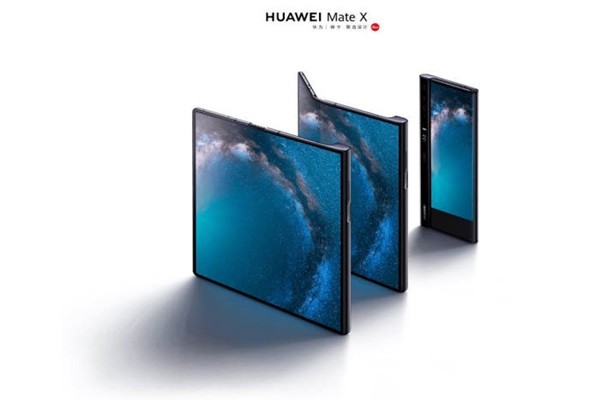 The size of supply of Kolon Industries' transparent PI for Huawei has not been confirmed. Because Mate X is an expensive device that will cost more than $1,700 (2 million KRW) and it is only sold within China, there is a high chance that the size of supply of Kolon Industries' will be limited.
However, this is something worthy of notice as transparent PI developed by a South Korean company has been commercialized. Prior to supplying transparent PI to Huawei, Kolon Industries also supplied its transparent PI to Royole for its foldable Smartphone. However, Royole is more of a display manufacturer rather than a Smartphone manufacturer and its foldable Smartphone is more of an experiment.
"Out-folding display requires more technical skills than other methods." said a representative for the industry who is familiar with the situation of transparent PI. "Although the level of quality of Mate X is unknown, this will be a meaningful example for South Korea's materials industry."
Galaxy Fold, a foldable Smartphone recently released by Samsung Electronics, is also applied with transparent PI that is supplied by Sumitumo Chemical.
It is likely that Kolon Industries' transparent PI will also be seen through other foldable Smartphones shortly.
According to the industry, it is heard that Motorola's foldable Smartphone, which is expected to go public on the 13th of next month, is also equipped with Kolon Industries' transparent PI. Motorola's foldable Smartphone has its top and bottom screens folded inwards and it is likely that it will look similar as Motorola's RAZR.
Kolon Industries did not say much about its customers when asked about Huawei and Motorola.
Staff Reporter Yun, Geonil | benyun@etnews.com