With Apple iPhone 11 series released, major Smartphone manufacturers released all of their flagship Smartphones for the second half of this year. With their flagship Smartphones released, they now have to compete against one another to grab the upper hand of the Smartphone market in the second half of this year.
Aside from specifications, ability to support 5G network and innovative form factor have also emerged as key variables that will impact the dynamic of the Smartphone market. Although the Smartphone market has shown slow growth lately, major Smartphone manufacturers released new Smartphones one after the other and are working on securing demands.
Samsung Electronics and LG Electronics reorganized their flagship lineups through 5G network and foldable form factor while Apple had focused on improving iPhone's camera and design while also focusing on 4G network that is still the mainstream.
It will be interesting whether Chinese Smartphone manufacturers with Huawei at the head will be key variables to the Smartphone market.
◊Samsung Electronics and LG Electronics focus on 5G Smartphones and dual-screen respectively
Samsung Electronics completed a lineup of 5G Smartphones that include its economic Smartphones as well as limited premium Smartphones. It is looking to increase the number of 5G Smartphone users by satisfying demands through various Smartphones.
Galaxy Note 10 5G was the first Galaxy Note series to be released in two different screen sizes (6.3-inch model and 6.8-inch plus model).
Samsung Electronics is looking to sell 10 million Galaxy Note 10 Smartphones by end of this year. While it only released 5G models within South Korean market, it released LTE models and 5G models within foreign markets at the same time to deal with various demands.
Galaxy A90 5G, which is the first economic 5G Smartphone, has its price set at the back end of $678 (800,000 KRW) to increase accessibility from consumers. Its plan is to increase the number of 5G Smartphone users through Smartphones that have premium performance and reasonable price at the same time.
Galaxy Fold 5G, which is Samsung Electronics' first foldable Smartphone, is Samsung Electronics' super-premium model and it is a limited edition. Due to limited supply, there is a scarce supply of Galaxy Fold 5G in South Korean market as well as foreign markets.
LG Electronics is looking to carry on the positive trend from LG V50 ThinQ towards LG V50S ThinQ.
LG Electronics focuses on 'most realistic foldable experience' that is provided by a dual-screen. It improved various functions such as outer alarm screen and hinge adjustment angle after applying opinions from consumers.
LG V50S ThinQ will have a dual-camera as its rear-camera rather than a triple-camera. While maintaining user experience through optimal software and set point, LG Electronics eliminated elements that would increase the price of LG V50S ThinQ. Smooth design without any camera module sticking out is another strength of LG V50S ThinQ.
LG Electronics is confident that it would compete well against another Smartphone manufacturers within the Smartphone market through differentiated user experience and competitive price.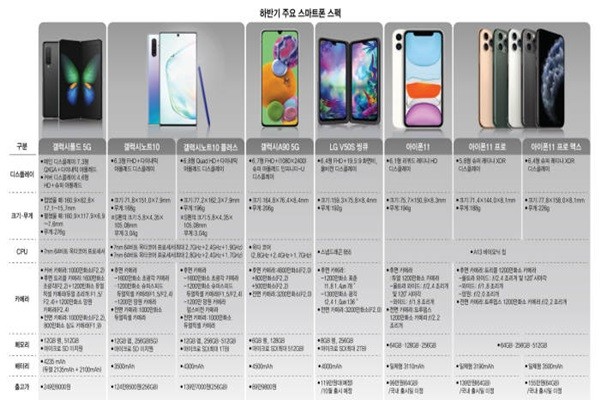 ◊Apple looking to win customers through new camera functions
Apple is looking to differentiate itself from others through camera functions. It introduced new camera functions while introducing iPhone 11, iPhone 11 Pro, and iPhone 11 Pro Max.
iPhone 11 series will be the first iPhones to have super-wide-angle 12MP cameras with 120° viewing angle. This means that they are able to take pictures that are four times wider than the cameras of previous iPhones at a same position. While iPhone 11 has a dual-camera as its rear-camera, iPhone 11 Pro and iPhone 11 Pro Max have a triple-camera as their rear-cameras.
Dual and triple-camera modules for iPhone 11 series have a unique square design. They minimize sense of difference as one sheet of glass smoothly connects areas that stick out. Although the design was mocked at first, some say that Apple is presenting a new direction for camera design just like its 'notch' design that has been established as a main design.
Fact that Apple used an unusual pricing policy for iPhone 11 series is another interesting issue. iPhone 11 is priced at $699 that is $50 less than the price of its previous model iPhone XR. iPhone 11 Pro and iPhone 11 Pro Max are priced at $999 and $1,099 respectively and they have same prices as their previous models. These prices go against Apple's usual move where Apple had significantly increased the price of its new iPhone every year.
None of iPhone 11 series supports 5G network and this will be a disadvantage within South Korean market where the focus is on 5G network.
At the same time, Apple is expected to benefit from the fact that its competitors' flagship products are not LTE models. There are still many customers who want to maintain LTE plan that is relatively cheap. Fact that the amount of subsidy provided by South Korean mobile network providers when a customer purchases a iPhone is traditionally low will also have an impact on consumers' decision-making.
◊Chinese Smartphone manufacturers come out with high-end products as well as low-end products
Huawei is planning to introduce its foldable Smartphone 'Mate X' next month and it will be inevitable for Huawei to compete face-to-face with Samsung Electronics regarding foldable Smartphone.
Huawei is planning to release 'Honor V30' that supports 5G network and is priced at about $424 (500,000 KRW) by end of this year.
Previously, Xiaomi stated that its 'Redmi K30' will support 5G network. Although the price is not set, it is estimated that Redmi K30 would cost about $432 (510,000 KRW).
Staff Reporter Park, Jungeun | jepark@etnews.com