Rigid OLED market that had been stagnant due to intense competitions for better price is on rise once again. Although it seemed that it was falling behind in competitions due to relatively high price and as it was not differentiated from LTPS (Low-Temperature Poly-Silicon) LCD in design, number of demands for rigid OLED has been on a rise again with Chinese market at the center as functions that are only available through OLED have started to gain popularity.
According to industries, Samsung Display's rigid OLED production line, which supplies most of rigid OLED panels globally, recently recovered its operation rate.
While its operation rate was hovering around 50% during the fourth quarter of 2018, it started to recover during the first quarter and it started to exceed 80% on average starting from the second quarter. Some believe that the operation rate of A2 line, which produces rigid OLED panels, is almost at the upwards of 90%.
Rigid OLED had gained popularity as it was selected by Chinese Smartphone manufacturers for their premium models. However, growth of rigid OLED market started to be stagnant as rigid OLED panel price started to drop due to oversupply of LTPS LCD panels in 2017 and 2018.
Rigid OLED started to lose its appeal as new no-touch design can be implemented through LTPS LCD and there was not much difference in design between OLED and LCD. Although it was expected that Chinese manufacturers would implement no-touch design through rigid OLED panel, they actually started to put out premium Smartphones equipped with LTPS LCD panels.
Reason why rigid OLED is started to gain attention again this year is due to various functions that can be implemented only through OLED.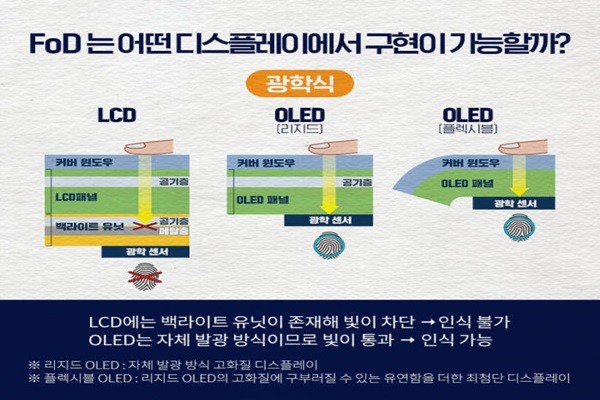 Prime example is 'fingerprint on display (FoD)'. While fingerprint recognition required a separate button at the bottom of a screen in the past, Smartphone manufacturers started to place the button under a display to implement a full screen. Full screen, which minimizes bezel, has emerged as a popular trend for premium Smartphones and popularity of full screen resulted in FoD technology receiving popularity from Chinese manufacturers.
FoD is based on optical method or ultrasonic method. Rigid OLED is implemented only through optical method while flexible OLED is implemented through both optical and ultrasonic methods. It is impossible to implement FoD technology through a LCD panel due to its backlight structure.
According to a market research company called DSCC, operation rates of manufacturers such as Samsung Display, VisionOx, and EverDisplay that produce rigid OLED panels have stayed at 80% on average during the second quarter. Reduced gap between the prices of LTPS LCD and rigid OLED and increase in demands for full screen have led to increased popularity of rigid OLED.
A market research company called STONE Partners analyzed that shipping of rigid OLED panels has been recovered as Samsung Display started to supply its products to Xiaomi and Samsung Electronics for Mi 9 series and A90 respectively. It estimated that Samsung Display shipped 61 million panels during the first quarter that is 10 million more than the number of rigid OLED panels it shipped in the fourth quarter of last year. Samsung Display is currently responsible for about 90% of shares of rigid OLED markets globally.
Staff Reporter Bae, Okjin | withok@etnews.com