8 small and medium businesses with experiences in various fields such as medicine, tourism, clothing, and marketing established a joint R&D system and are working on development of business models based on AI (Artificial Intelligence).
It is interesting to see that these small businesses have decided to gather their abilities in different fields and establish an AI industry ecosystem centered on small and medium businesses while South Korea's AI business market is being led by few major corporations.
T3Q (CEO Park Byung-hoon) announced that it is currently working with other small and medium businesses to establish joint models while receiving financial support from South Korean Government.
It is planning to develop AI-based services and joint business models by combining domain knowledge and Big Data with its Big Data and AI platform called 'T3Q.ai' and commercialize them within 2 years. It had carried out an AI project with many agencies and institutions such as KT, SK Hynix, Korea Internet & Security Agency, Korea Electric Power Research Institute, Woori Bank, and BC Card utilizing T3Q.ai platform.
It is hoping to ease 'the rich-get-richer' phenomenon between major corporations and small and medium businesses by developing AI services that are specialized to small and medium businesses through its many experiences in developing AI application services.
This cooperation is led by T3Q with its platform 'T3Q.ai' followed by other small and medium businesses such as Sungmin Networks, Frotoma, Bigster, NTSystem, GAONN IT, Flex Networks, and KOSMIC.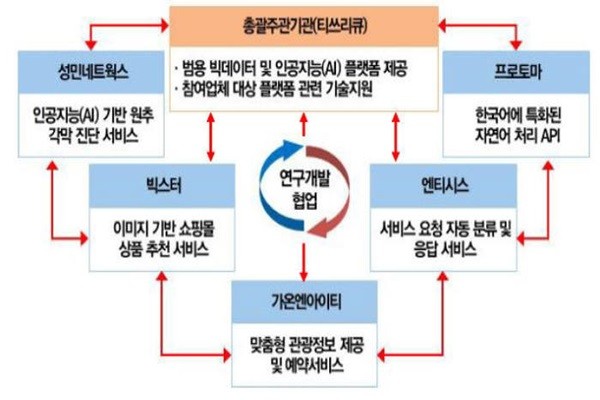 Sungmin Networks will develop AI-based conical cornea diagnosis services. Early diagnosis is important for conical cornea as it is an eye disease that decreases eyesight. Sungmin Networks secured a patent on how to create association rules for semantic analysis-based data mining within an environment of Big Data.
Bigster will develop image-based shopping mall clothing recommendation service. This service will automatically collect information on products from various shopping malls that sell clothing and products that are worn by celebrities and recommend similar clothing products to consumers. Bigster has parents in data relay system, advertisement information provision system, and franchise store information provision system.
GAONN IT is responsible for developing AI-based personalized tourist information provision and reservation service. This service will gather various tourist information from South Korean Government, public agencies, local governments, and SNS and provides personalized tourist information and automatic reservation service to consumers. GAONN IT has a patent in location recognition technology and technologies related to ticket reservation and issuing system.
Frotoma will develop nature language processing API (Application Programming Interface) that is specialized for Korean and introduce interactive chatbot service. It is planning to implement sentence structure analysis technology so that it is compatible with AI platforms and it will utilize semantic text mining and semantic ontology inference engine technologies.
NTSystem will develop AI-based service request automatic categorization and response service. It is planning to automatically process repetitive manual process that used to consume so many hours through Big Data and AI-based automatic analysis, inference, and prediction. It currently has a patent in HyperText Markup Language conversion method.
Flexnet will provide hardware and technologies that are needed for Cloud services while KOSMIC will provide support with domestic and foreign marketing and overseas expansion.
"We are planning to develop low-cost and high-efficient AI services through cooperation between small and medium businesses that have various fundamental technologies and domain knowledge." said CEO Park Byung-hoon of T3Q. "We are going to create a foundation that will allow small and medium businesses that cannot afford to make investments to easily introduce AI services for their businesses."
Staff Reporter Ahn, Soomin | smahn@etnews.com