South Korea's blockchain industry is planning to introduce blockchain services that can be used in a daily life as it faces a new year.
According to industries, generalized blockchain projects on social media service, electronic document platform, and multichain will be launched one after the other starting from March.
PIBBLE, a blockchain social media service is going to launch 'PIBBLE Open Alpha Version' through an AppStore next month.
PIBBLE is a social media platform where general people and experts share creator pictures and image contents. It compensates creators that publish contents for the first time and users who are active on SNS with cryptocurrencies called 'PIBBLE' and 'PIBBLE Brush'. Users will be compensated whenever they express themselves or express interests to other users.
Corresponding cryptocurrencies can be used to purchase contents within PIBBLE platform. Information on tokens that are used to purchase PIBBLE contents will be stored inside of blocks while payments are process through an internal system.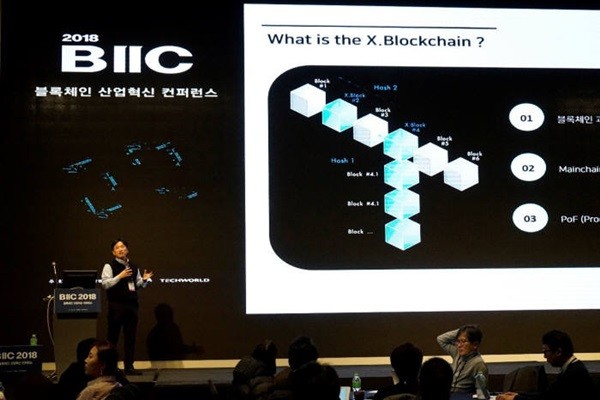 Xblocksystems (CEO Kim Seung-ki) is going to launch X.Blockchain-based 'decentralized electronic document platform' in early March. Xblocksystems is a technology company of 'ASTON', which is a blockchain-based electronic document project.
X.Blockchain is able to create and operate each blockchain for services. It synchronizes unnecessary blocks and minimizes power for maintaining network. It is also able to operate an independent node for blockchain service. This indicates that it is able to create a hybrid blockchain by combining a private blockchain and a public network. It is able to create subchains depending on needs of blockchain services and it is able to verify electronic documents and date more efficiently as a result.
"By minimizing synchronization of unnecessary blocks, our decentralized platform is able to manage network more efficiently." said CTO Kwon Yong-seok of Xblocksystems. "We are going to complete Mainnet after going through verification procedures for completeness of our system with help from white hackers."
YGGDRASH launched a Testnet on the 11th and it is planning to launch a Mainnet during third quarter of this year. YGGDRASH is a next-generation multidimensional blockchain platform being developed by R2V (CEO Seo Dong-wook).
YGGDRASH implemented multichain through a Testnet. Multichain does not have an expandability issue unlike current blockchain even when many decentralized applications are vitalized.
"Our goal is to become an AWS (Amazon Web Service) of blockchain industry that can easily create decentralized applications that can be applied to actual businesses by solving problems of other blockchain platforms."
Staff Reporter Ham, Jihyun | goham@etnews.com