LG is pushing for a blockchain-based cryptocurrency project. It recently started a 'demonstration project for Magok Pay (tentative name)' within LG Science Park and it is planning to expand its cryptocurrency platform throughout South Korea during the first quarter of 2019 at the earliest.
According to IT and financial industries, LG CNS recently started a demonstration project for Magok Pay targeting its employees within LG Science Park.
This project is a cryptocurrency-based settlement project that allows one to pay with tokens rather than cash or credit cards. One can charge cryptocurrencies through his or her mobile application and pay for products with cryptocurrencies at stores that support Magok Pay.
LG CNS, which has technical skills in blockchain, is going to examine validity of this project after the demonstration project and expand this project throughout South Korea just like Nowon Coin. It has partnered up with KB Bank regarding exchange and charging of cryptocurrencies.
"Demonstration project for Magok Pay will first look into whether there is any problem with using infrastructures to pay for things with cryptocurrencies." said a representative for the industry. "Through this project, LG will be able to prepare groundwork towards various blockchain-based projects in the future."
LG has various conditions such as Smartphones and blockchain systems that are necessary for this project. Fact that it is pushing for a demonstration project within LG Science Park allows people to get a sense of LG's expectations on this project.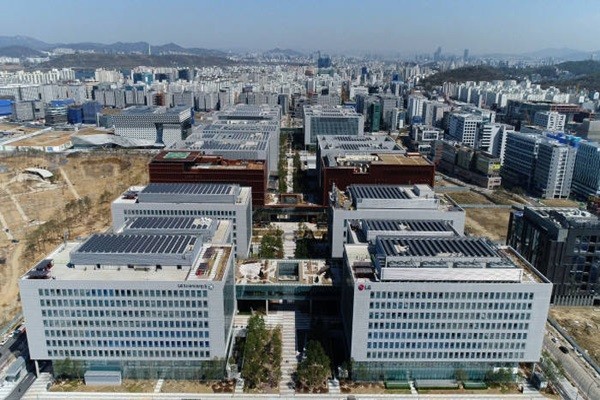 LG Science Park, which is based on $3.53 billion (4 trillion KRW) investment, is constructed on 170,000m2 land, which is equivalent to 24 soccer fields, and has a total area of 110,000m2. It has 20 research divisions and about 17,000 employees from 8 subsidiaries such as LG Electronics, LG Display, LG Innotek, LG Chem, LG Hausys, LG Household & Health Care, LG Uplus, and LG CNS. It is expected that number of employees within LG Science Park will increase to 22,000 by 2020. LG Science Park is equipped with optimal conditions to be utilized as a testbed for blockchain technology.
"We have been carrying out a demonstration settlement service for our employees since the second half of this year for a community demonstration project based on blockchain technology." said a representative for LG CNS. "We expect that our blockchain service will be applied to various areas such as Korea Minting, Security Printing & ID Card Operating Corp.'s blockchain platform project."
"We heard that LG Group is looking into blockchai-based projects as a future project." said a representative for a financial company who requested for anonymity. "It is currently pushing Magok Pay Project as a demonstration project as it could not make clear decisions regarding initial investment and profitability of Magok Pay Project."
Point of view from financial companies towards profitability of Magok Pay is different from each other as LG had to change its bank partners several times while it was pushing for the demonstration project. Although Woori Bank, Shinhan Bank, and Hana Bank looked into participating in Magok Pay Project initially, KB Bank has become the final partner at the end.
However, when Magok Pay is established as a separate blockchain platform, it is expected that it will be possible to create various business portfolios. If it is connected to simple settlement services based on local currencies that are being pushed by local governments or Smart City projects, Magok Pay will be fully equipped with competitive edge.
Representatives from LG Electronics and LG CNS tried to avoid answering questions regarding Magok Pay when questioned about it.
Staff Reporter Gil, Jaeshik | osolgil@etnews.com & Staff Reporter Choi, Jaepil | jpchoi@etnews.com