South Korean Government is discontinuing firm banking by all simple payment services as part of its plan to reduce payment fees for small businesses.
Banks that have been receiving minimum of tens of millions of dollars from simple payment service providers annually are strongly opposing such decision by calling it a another benefit for 'simple payment service providers'.
On the other hand, simple payment service providers are insisting to participate in reduction of fees by saying that banks have been busy with making money through fees from firm banking.
Some are criticizing such decision made by financial authorities by calling it a populism policy that tries to keep pace with South Korean Government by benchmarking Zero Pay project that is being promoted by Ministry of SMEs and Startups (MSS) and Seoul-si.
According to industries, Financial Services Commission (FSC) notified commercial banks that they should discontinue firm banking fee system of every simple payment service in South Korea and change to an open API (Application Program Interface) system provided by Korea Financial Telecommunications & Clearings Institute (KFTC).
Firm banking is a banking system where companies and financial organizations connect their computer systems to telecommunication lines and process their financial tasks online without having to go to banks.
Every simple payment service provider such as KakaoPay, NaverPay, Toss, and NHN PAYCO provide their services by connecting their computer systems to commercial banks and their firm banking systems.
These simple payment service providers usually pay between $0.18 and $0.35 (200 and 400 KRW) per transaction as part of a fee of using a firm banking system. In case of NaverPay, it is estimated that it pays up to $88.2 million (100 billion KRW) annually just for using firm banking systems provided by banks.
It is heard that FSC is planning to lower the fee down to about $0.04 (40 KRW) per transaction.
Profits that banks have been earning through firm banking fees will disappear almost entirely as firm banking fees will be reduced and as banks have to pay KFTC for using its API.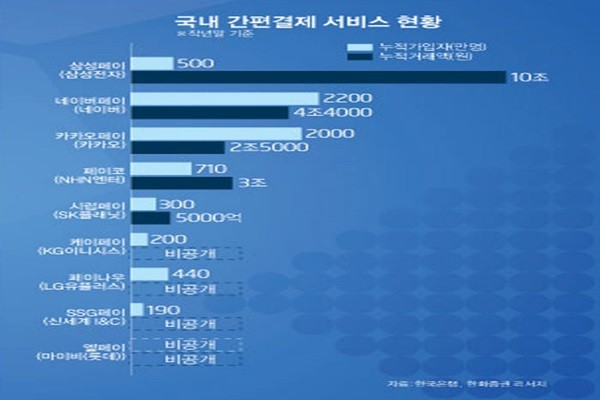 "Although financial authorities are saying that it has made this decision for small businesses, it is basically giving more power ot IT companies that already have huge influence on markets." said a high-ranking official for a commercial bank. "If these IT companies gain more power, other upcoming simple payment startups will not be able to enter simple payment markets at all."
Commercial banks are stating that it does not make sense to change their firm banking systems. On the other hand, simple payment service providers are telling commercial banks to worry about their own businesses.
"If fee for using a firm banking system gets reduced, we will be able to give more benefits to small businesses and consumers." said a simple payment service provider that requested for anonymity.
Financial authorities decided that they will implement this plan with commercial banks by end of November.
However, there is another obstacle to go through before implementing this plan and that is VAN (Value Added Network) business. 4 VAN companies that oversee VAN network of commercial banks are worried that their businesses will be in jeopardy once financial authorities discontinue firm banking system.
VAN companies receive about 10% of fees that banks get from simple payment service providers. However, once firm banking system is converted to KFTC's API system, there will be no more fees since transactions will not go through their network.
"Although it is important to support small businesses, reducing fees while choking current industries' lives is violating Fair Trade Act." said a representative for a VAN company. "VAN companies and commercial banks have nowhere to express their feelings since public opinion views us as just getting large chunk of fees from simple payment service providers." VAN companies and commercial banks are pointing out that South Korean Government is not considering their roles at all in establishing IT-based simple payment markets.
Meanwhile, it is heard that FSC is planning to gather vice-presidents of top commercial banks next week and strongly urge its plan to them.
"We never forced commercial banks to discontinue their firm banking systems." said a representative for FSC. "As FinTech payment markets have made rapid growth, we are looking to see how fee structures are made by commercial banks."
Staff Reporter Gil, Jaeshik | osolgil@etnews.com