"I cannot imagine a Smart City without blockchain."
"Just like how an aircraft's black box collects flight information, Smart City also needs a device that will manage data." said CEO Godefroy Jordan of SmartHab. SmartHab is a blockchain startup in France and was established in 2016. It introduced blockchain solutions that can be used by Smart Homes.
"More than 3 billion IoT (Internet of Things) sensors operate around Smart City." said CEO Jordan. "Many data can be safely stored and used through blockchain technology."
CEO Jordan also compared blockchain to Cloud service. By bringing up a fire accident in London that happened last year, he warned that data within Cloud is weak against unexpected variables like fire accident. A 24-story apartment was completely destroyed by this fire accident and entire data of the building disappeared as a result. On the other hand, because blockchain uses distributed data storage technology, it is not affected by external variables.
Due to such safe protocols, SmartHab's turnover surpassed $23.4 million (20 million euro) even though it was established last year. It also attracted investments from a real estate development subsidiary of Vinci Group, which is one of the biggest construction business in France. Its technologies are currently applied to Mediterranee and Ile de France.
French Government is also supporting blockchain technology as it is actively promoting blockchain industry including cryptocurrency. "Out of G20 countries, France will be the first one to legally allow ICO (Initial Coin Offering)." said CEO Jordan.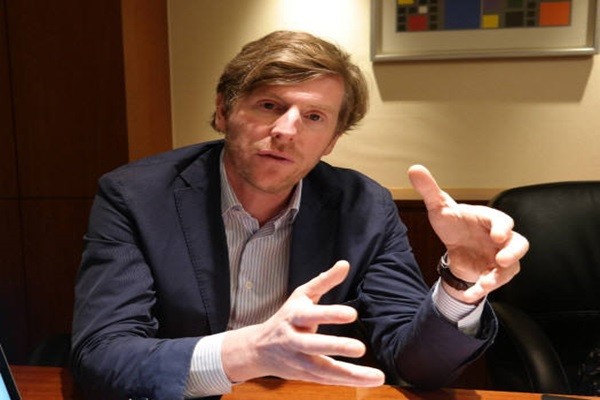 Actually, French Government is preparing to announce a bill regarding growth and change of ICO companies. Although it is not confirmed yet on whether French Government will allow ICO, it is expected that it will make a decision sometime during next month.
CEO Jordan is highly interested in South Korea. "South Korean market is very dynamic just like France as it makes 300,000 new apartments every year." said CEO Jordan.
"We are planning to supply our connected apartment solution to real estate developers and blockchain-based HAB platform to Smart City businesses." said CEO Jordan regarding SmartHab's plan to enter South Korean market. "We are planning to establish corporates in South Korea, the U.S., and Germany during the second half of 2019." He also added that SmartHab is currently discussing with SK Telecom regarding a partnership.
SmartHab is pushing for HAB ICO until end of this year. Its goal is to apply its connected apartment solution to 10,000 houses until 2020. CEO Jordan has been in IoT industry for more than 20 years. He started SmartHab company by employing former ministers, experts who used to work as diplomats, and mathematicians.
"South Korea must manage its trading platform and ICO through a visa issue system just like France." said CEO Jordan. "This will help South Korea to attract large corporations and institutional investors." He also emphasized that Europe and the U.S. are looking for a dynamic and qualitative ecosystem and that South Korea can be an Asian hub for them.
Staff Reporter Choi, Jonghee | choijh@etnews.com