May is a good month to go on trips, and there are many places where families can go as one-day trips. One of examples is 'One-Day 3 Course Trip at Yeongjongdo Island', which was recommended by AREX (Airport Railroad Express) as the month of families has approached, and it can be a great place for families to enjoy.
◊'Yeongjongdo Seaside Park'
'Yeongjongdo Seaside Park', which has an area of 1.77 million m2, is a place composed of rail bikes, a camping ground, and artificial waterfall. It has a 6km trail along seaside from Yeongjongjin, which is near Incheon Yeongjong Dock, and it has observatories, rest areas, and playgrounds in different places. Rail bike, which follows coastline and provides a clear view of Yellow Sea, Incheon Bridge, and Wolmido Island, is seen as one of the best leisure courses for families and couples. Families can also camp while enjoying glow of the setting sun from caravans and a camping ground that are located within the park. Because there is Salt Pond Preservation Ecological Park, which has old salt pond facilities and lodgings where workers stayed at, near a camping ground, the park is also perfect for educating children about how salt is made.
To get to the park, one can take 202 or 223 bus from AREX's Yeongjong Station, exit Geumhong Salt Pond Station, and walk for about 10 minutes.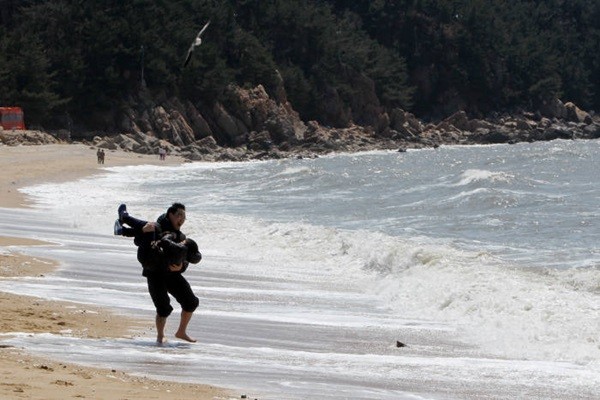 ◊'Mashiran Beach' and Joleum Island'
'Mashiran Beach' is known for its beautiful and clean view as it is the top 4 scenic view out of 8 scenic views of Yongyou due to its endless fine sandy beach. When vast mud flat is exposed during low tide, one can see a contrasted view of 'Mashiran Beach' that is normally a white sandy beach. One can also experience mud flat by digging clams such as surf flam or catching fishes. 'Joleum Island', which is a deserted island, is located at the right end of Mashiran Beach. It is called 'Joleum Island' because its shape from afar is similar to how a person is dozing off.
Joleum Island trekking is seen as the highlight of Yongyudo Island's coastal walk and it only takes about 20 minutes to circle around the island as it is a small island. Because beaches such as Mashiran Beach, Yongyu Beach, and Seonnyeobawi Beach that stretch on both sides of the island are seen at a glance as the island sticks out towards ocean, view of the island stands out from other sceneries. Strange rocks such as rocks that have shapes similar to a penguin or a meerkat and others are also things to look for at this island.
It is wise to trek to the island during low tide when a sea route opens up and through Mashiran Beach. Trekking course that connects the entrance of Mashiran Beach to Joleum Island takes about an hour to an hour and thirty minutes. To get to Mashiran Beach, one can take the magnetic levitation railway from AREX's Incheon Airport Terminal 1 Station, exit Yongyu Station, and walk for about 20 minutes.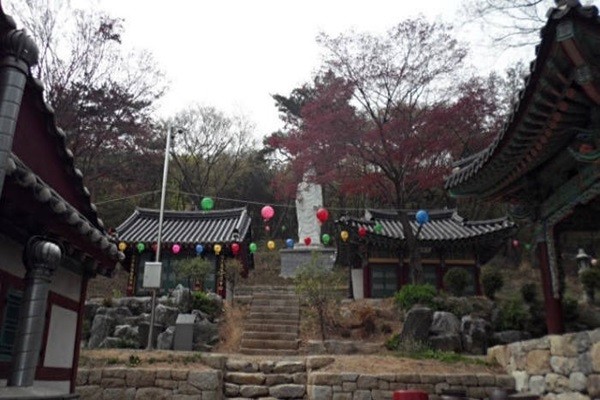 ◊'Sowon Bawi' and Yonggungsa Temple
'Yonggungsa Temple', which is near AREX's Unseo Station, is a temple that is near cities as it is linked to light hiking to islands and a beach trip to Yongyudo Island. Yonggungsa Temple is a historic temple, which was found by Saint Wonhyo during an era of Munmu King of Shilla (670 A.D.), draws visitors due to its 'Yonggungsa' plaque that was written by Heungseon Daewongun and placed inside of a space where Buddhist monks stay.
Name 'Yonggungsa' was changed from 'Baegunsa Temple' after Gojong visited Baegunsa Temple before he became a king and heard about the origin of 'Yonggungsa'. Top of the Baegunsan Mountain, where Yonggungsa is located, can be reached in about an hour from the entrance of trail. It is a trail with gentle slope and it is filled with dense trees. View of ocean from the top is spectacular. Surroundings such as Youngjong Grand Bridge, Incheon Harbor, Incheon Bridge, Incheon Airport, Silmido Island, Muuido Island, Sindo Island, Sido Island, Mudo Island, Ganghwado Island, and Manisan Mountain can be seen at a glance.
A small sculpture of Buddha and a small stone are placed on top of 'Sowon Bawi', which is located next to Baegunsan Mountain, it is heard that one's wish comes true when he or she turns the small stone while saying his or her birthday and wish and feels that the stone is attached to the rock like a magnet. To get to Yonggungsa Temple, one can take 202 bus from AREX's Unseo Station, exit Yeongjong Branch Station, and walk for about 10 minutes through a forest trail.
Staff Reporter Na, Seongryool | nasy23@etnews.com