It is expected that Chinese Smartphone manufacturers will be one step ahead of South Korean Smartphone manufacturers when it comes to markets for 'Smartphones with in-display fingerprint sensors' that differentiate one's fingerprints. After VIVO released its Smartphone that implemented world's first in-display fingerprint sensor, other Chinese Smartphone manufacturers started commercializing this technology as well. While Chinese Smartphone manufacturers are showing speedy process on this technology, it is unclear whether or not South Korean Smartphone manufacturers such as Samsung Electronics will introduce this technology by end of this year.
According to industries on the 19th, Chinese Smartphone manufacturers besides VIVO have decided to release Smartphones with in-display fingerprint sensors and they are currently making preparation for such Smartphones. They established SCM (Supply Chain Management) for fingerprint recognition sensor, module, and display. It is heard that they have decided to use Samsung Display's OLED panels as displays. Samsung Display is planning to assemble a fingerprint recognition sensor and a module with an OLED panel.
Because an in-display fingerprint sensor analyzes fingerprints just by having someone touch a display with his or her finger, it does not need separate physical button. This allows Smartphones to be designed sleeker and it can also increase size of a display. It is seen as a technology that is needed to implement full-screen Smartphones.
For a while, performance, quality, and production yield that were not satisfactory were pointed out as obstacles for commercializing in-display fingerprint sensors. However, it is likely that this year will prepare an import turning point for overcoming these limitations. As VIVO started selling its new Smartphone called X20 Plus with an in-display fingerprint sensor starting from this month, it has added fuel to competitions between Smartphone manufacturers. Other two Chinese Smartphone manufacturers that are also preparing Smartphones with in-display fingerprint sensors have their headquarters in Shenzhen and they are considered as top 10 global Smartphone manufacturers. It is expected that they will provide opportunities for sudden expansion of markets as they look to purchase more parts for these sensors.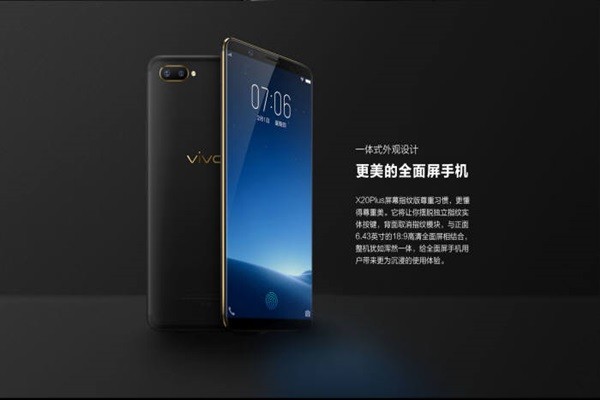 "Chinese industries started mass-production by using optical sensors and they are showing a fast pace." said a representative for an industry who is familiar with Chinese Smartphones.
Samsung Electronics has been looking into applying this technology to its Smartphones. However, it seems unlikely that it will release Smartphones with such technology this year. It is heard that Samsung Electronics' Galaxy S9 and Galaxy Note 9 (tentative name) will not have in-display fingerprint sensors. Although an exact reason is not known, it seems that Samsung Electronics will need plenty of time to investigate this technology since its annual output of flagship models goes over tens of millions of units.
Depending on operation methods, current in-display fingerprint sensors are divided into electrostatic capacity method, optical method, and ultrasonic wave method. Electrostatic capacity method measures differences in values of electrostatic capacity that depends on curvature of fingerprints. Optical method differentiates fingerprints through amount of light reflection that is caused by curvature of fingerprints. Ultrasonic wave method analyzes shapes of fingerprints amount of reflection of ultrasonic wave.
Smartphone parts manufacturers have been researching that in-display fingerprint sensor will emerge as a main technology for next-generation Smartphones. Smartphone manufacturers are starting to compete against each other in order to grab upper hands in this market as Chinese Smartphone manufacturers have begun to apply this technology to their Smartphones. Synaptics, which has been researching into optical method, supplied in-display fingerprint sensors to VIVO. Goodix from China and Egis Technology from Taiwan are also developing this optical method. CrucialTec from South Korea is preparing electrostatic capacity method. CrucialTec is planning to introduce its solution that can be applied to 5.5-inch full-screen Smartphones at 'MWC 2018', which will be held in Barcelona on the 26th. Qualcomm from the U.S. and BEFS from South Korea are developing ultrasonic wave method.
Staff Reporter Yun, Keonil | benyun@etnews.com