Samsung Electronics is going to develop its own new semiconductor packaging process in 2018.
Its plan is to once again win orders of Apple's application processors (AP) that were taken by Taiwan's TSMC. TSMC took entire supplies of Apple's APs from Samsung Electronics in 2016 by presenting state-of-the-art front-end wafer manufacturing capabilities and new packaging technologies.
According to industries on the 27th, it is confirmed that Samsung Electronics' Semiconductor Business Department is making investments in order to develop new Fo-WLP (Fanout-Wafer Level Package) process. It is also developing related technologies with Director (Director in charge of Semiconductor Research Institute) Oh Kyung-seok, who is an expert in semiconductor packaging and was recruited by Samsung Electronics from Intel at the end of last year, at the center. Within Samsung Electronics, this development is called 'Kim Ki Nam Project' because President Kim ordered this project during the first half of this year with utmost secrecy.
Samsung Electronics' goal is to establish a mass-production system for new process by 2019 because it believes that it will be able to take back supplies from Apple when it is completed with development of this technology.
Packaging is a process that packages a chip (die) that is cut from a manufactured silicon wafer. It is a process that protects a chip from outside moisture, impurities, and impact and delivers signal to a main PCB (Printed Circuit Board). Higher degree of integration makes an area of a chip smaller and increases number of I/O (Input/Output) terminals. It was difficult to handle increased number of I/O terminals with fan-in package. Due to this reason, fan-out technology that pulls wiring outside of a chip during a packaging process started to receive spotlight. Expensive package PCB that goes into a package is not needed anymore when fan-out technology is used. It can also reduce production cost and make thickness (height) of a package smaller.
Samsung Electronics has been using DLP (Die Level Package) method that packages manufactured wafers one at a time. Although WLP has higher level of technological difficulty, it packages wafers as they are and it can reduce number of processes. It is also advantageous in reducing production cost. Its method was also verified as most of professional OSAT (Outsourced Semiconductor Assembly & Test) companies have WLP lines, Samsung Electronics'.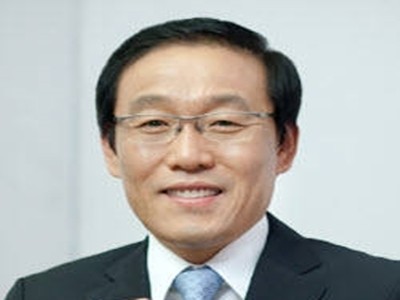 TSMC was the first in the world to commercialize Fo-WLP technology for AP and it was able to win orders for 16-nano A10s for iPhone 7 and 10-nano A11s for iPhone 8. It calls Fo-WLP technology as 'InFO (Integrated Fan-Out)'.
Although Samsung Electronics and TSMC's competitive edge are about even in front-end wafer manufacturing field, experts believe that Apple eventually gave its orders to TSMC because Apple thought highly of TSMC's competitive edge in packaging process. "Due to InFO technology, AP's thickness has become remarkably thinner than APs from the past." said TechInsights, which is a company that specializes in analysis of semiconductors, as it was analyzing cross section of new A series AP that is put into Apple's iPhones. "We can assume that TSMC was able to monopolize Apple's supplies with InFO technology."
"Until now Samsung Electronics only has been focusing on front-end processes and has not made much investment into back-end processes." said a representative for an industry. "We know that Samsung Electronics felt keenly the necessity for development of technologies and large-scale investments for back-end packaging process while it was trying to win orders from Apple."
It seems that Samsung Electro-Mechanics' PLP (Panel Level Package) business will face a serious problem once Samsung Electronics secures its own Fo-WLP technology. PLP is a technology that packages a chip that is placed on top of a quadrilateral panel instead of a circular wafer. Chairman Kwon Oh-hyeon, who was the former director for Semiconductor Division, actively pushed for this technology and passed this project to Samsung Electro-Mechanics after going through restructuring from a group's perspective. However it is heard that Samsung Electro-Mechanics has faced many trials and errors since Samsung Electro-Mechanics was new to this technology and lacked appropriate equipment and materials.
It is heard that Samsung Electronics' Semiconductor Business Department brought back many of professionals in packaging who were sent to Samsung Electro-Mechanics as it had doubts about PLP method. It seems that there will not be any reason for Samsung Electronics to assign supplies of its packages to an outside company or its subsidiary once it develops its own Fo-WLP technology and secures mass-production system.
Staff Reporter Han, Juyeop | powerusr@etnews.com